Naomi Aldrich and Christina Marie Phelps
3rd Year, Art Education Specialization 
Artful Play: A community art pedagogy
Adopting artful play in the community setting is a non-threatening way to engage participation and collaboration. The format itself is open-ended, exploratory and process-emphasized, allowing for creative experimentation in authentic and often unexpected ways.
Culture and science are based on various forms of play; as such, it is of the utmost importance that play is considered as a vital component of contemporary educational practice. Play fosters "resiliency, problem solving techniques, and healthy socializing skills" (Brown, 2009, p. 8), all of which are fundamental to healthy human development and the shaping of a harmonious society. Adopting artful play in the community setting is a non-threatening way to engage participation and collaboration. The format itself is open-ended, exploratory and process-emphasized, allowing for creative experimentation in authentic and often unexpected ways. Additionally, it is a practice that encourages a breakdown of hierarchy, as instructors create playfully alongside the learners. It is our contention, based on research and practice in the community setting, that it is time for the re-visitation of playful, process-based practices that allow for fun and experimentation to enter the community art experience.
The exploration of "artful play" was initiated during our second year community teaching practicum at Tyndale St. Georges Community Centre located in Little Burgundy, historically a low-income neighborhood in south-west Montreal that is now experiencing pressures of gentrification. Inspired by the Jesse Maxwell Smith Park Project, a community park built in the fall of 2012 at Tyndale, we decided to explore the theme of community through collaborative art making practices during our after school art program. With our participants, aged five to eight, we dedicated the entire fall semester to collaborative art practices guided by the core themes of "identity" and "place" in relationship to the concept of community. Despite the initial challenge of breaking down our participants' preconceived notion that art making is always an individual, product-oriented practice, we had a very successful and fulfilling experience. At the end of the semester we organized an on-site art show in which, parents, members of the Tyndale and Concordia Art Education communities were invited to celebrate the work of our participants.
Based on feedback and critical reflection concerning our first semester experience, we concluded that despite the success of our program, an aspect of playfulness was missing from our approach. We considered what it might be like to engage our participants in less rigidly structured lessons, focusing more on open ended, exploratory experiences. Our research turned up a wealth of theoretical and practical resources that advocated play as a critical component for healthy development, authentic learning and creativity. We were particularly drawn to the book Play: How it shapes the brain, opens the imagination, and invigorates the soul (2010) by Dr. Stewart Brown, founder of the National Institute of Play, a non-profit public benefit corporation in Carmel Valley, California. Additionally, we researched various community initiatives whose mandates were based on the philosophy of artful play. Among the initiatives that left an impression on us were, ArtPlay located in Melbourne, Australia and Playeum, The Play Museum in Singapore. Both sites have a similar structure in that they are community-based, multidisciplinary initiatives that offer a number of arts-based and artist facilitated programs for children, their families and members of the community.
With regards to pedagogy, both sites aim to foster a caring, child-centered environment that encourages active, collaborative and process-based learning through play. Indeed, we felt that the approach at these sites was very much aligned with our vision at Tyndale. Our research clarified our approach and we made the decision to attempt to explore an artful play praxis through the lens of street art interventions, community, and collaboration during the second semester. Together, we designed and implemented a program composed of two unit plans; one unit focused primarily on the exploration of selected street art techniques, the other explored a variety of street art interventions. Our aim was to engage our participants, aged nine to twelve, in collaborative, exploratory, play-based learning experiences inspired by the practices of various public/street artists and collectives. Altogether our program was composed of eight integrated lessons, three of which are highlighted below.
Open Air Art
The Open Air Art activity aimed to question the act of art-making and viewing art in public spaces, outside the confines of the traditional gallery or museum space. The group was introduced to the Situationist International, an international organization of politically engaged avant-garde artists and intellectuals mostly from Europe, formed in 1957 and active until 1972. (Ford, 2005, p. 8) Additionally, the local collective called Une Banane was presented to the participants. Their "Free for Wall" project staged art installations and interventions in public spaces (Free for Wall, 2012). For our activity, participants were provided with a variety of art materials, which included chalk, clay, stickers, erasable markers, and a number of pre-arranged gold-framed blank "canvases." Various forms of canvases were used such as a chalkboard, whiteboard or an Etch A Sketch. Sharing materials and moving freely around the canvases, the participants were able to converse and collaborate throughout the process.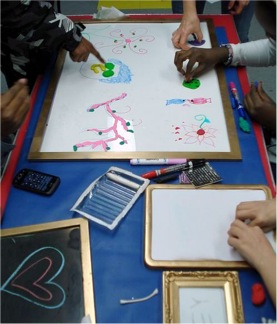 The activity questioned the nature of public art display, as the group was challenged to rethink the act of art making and as well as curating while sharing in this collaborative process. This lesson was important to the group as it helped set the tone of our Artful Play Unit. Additionally, it offered a brief art history lesson, which highlighted the hybrid movements that inspired Artful Play, such as the Dadaists, Surrealists, and the Situationists. The participants were free to play and experiment, knowing that the focus of the activity was not on the product, but instead on the invitation to create together. Through unbridled play and experimentation, the purpose of this project was to promote a sense of empowerment through collaborative art making and at the same time offer a space for each individual to express themselves freely.

No Cars Go

No Cars Go was the title of the Artful Play art intervention which introduced our participants to (Park)ing Day, "an annual open-source global event where citizens, artists and activists collaborate to temporarily transform metered parking spaces into "PARK(ing)" spaces: temporary public places," (Parking Day, 2012). This project is part of an international movement that stems from the Reclaim the Streets umbrella, a collective with a shared ideal of community ownership of public spaces (Car-free Movement, 2014). Park(ing) Day is recognized worldwide on the third Friday in September, and addresses the issue of environmental stewardship and community spaces. Various street artists, activists, and concerned citizens set aside this day each year, where they literally take over a city streets parking spaces (often metered), for installations, interventions and performance art pieces.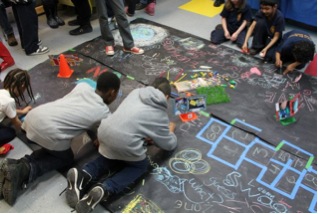 The No Cars Go activity allowed the participants to transform a mock parking space, represented by black banner paper taped to the floor and sectioned off with pylons.We used small toy cars and vehicles as paintbrushes and actual recycled car accessories as three-dimensional canvases. Colored sidewalk chalk and building toys were used to protest, as well as transform the allotted simulated parking space, into a colorful expressionistic area. The group worked collaboratively to create a whimsical installation within the confines of the dimensions of a parking space to reclaim the area for child's play. There were no set guidelines as to what the children had to do in the area besides play. Some learners took it upon themselves to write messages with the colored chalk of protest and peace, while others built miniature playground structures. As was previously mentioned with respect to the Jesse Maxwell Smith Park Project, many participants had already witnessed firsthand the need for more green spaces and playground areas within the city. This activity reinforced this notion and further provided learners with the opportunity to reflect on their community.

Tyndale Ti(l)es

The lesson Tyndale Ti(l)es was inspired by French street artist Invader, whose tile mosaics depict characters from the classic video game Space Invaders. In addition to exploring examples of Invader's work, we also presented examples of historical mosaics, as a way of contextualizing the long history of this technique. Other examples of contemporary street art were also introduced, including artist Jan Vormann's project Dispatchwork, which involves the use of LEGO blocks to physically reconstruct deteriorated aspects of urban landscapes.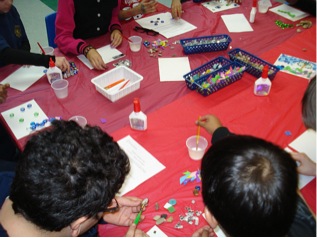 The playful nature of Invader's video game inspired mosaics immediately appealed to our participants. The fact that our participants could easily relate to the imagery allowed for an interesting and authentic dialogue that helped guide and expand their ideas during the creation of their own mosaics. During the creation process, the participants sat together around a large table so that they could share materials, ideas and potentially work collaboratively. We provided them with a wide variety of materials, including, natural and glass stones, various tiles, buttons and colourful craft foam. Working on small canvases, the participants had the opportunity to explore and manipulate the materials of their choice. Encouraging participants to experiment with a variety of materials offered them a sense of creative freedom and autonomy. Having the group work together at the table promoted a constant creative dialogue and collaboration amongst the students. Indeed, one group of participants conceptualized and created a triptych based on a video game relevant to them.

Conclusion

Facilitating our combined Artful Play units gave us the chance to truly explore the hybrid art movement of play, discovery and collaboration with our participants. The program design aimed to be relevant to our participants as they were immersed in public and street art interventions on a daily basis through their exposure to advertisements, murals, tags, posters, installations, and sculptures. The participants were pleased to discover that much of the iconography from their collective free play experience, such as toys, games, activities, popular storybook characters, and comics, was considered the inspiration and mediums for many contemporary street artists. It was important to us that our lessons were relevant to the participants, while remaining open-ended, experimental, and promoting the concept of play as process acknowledging that artistic outcomes cannot be carefully prescribed (Duncum, 2009, p. 232).
Overall, the program truly met our goals. The "collaborate-and-create method" (Lawton, 2010, p. 11), mixed with the experiential nature of artful play, led to some incredible dialogue and artistic interventions from our participants throughout the year.
At the end of the winter semester, we had the opportunity to share in the success of the group by planning, with them, an art show finissage to display their actual art works as well as documentary photographs of their creation process. Invitations to the finissage went out to the families and members of Tyndale as well as to members of the community at large, including street artists and practicing community art activists. The participants were pleased to meet some of the artists whose practice and collaborative works they learned about during the semester. Many received kind words of support from their families, neighbors, younger peers from Tyndale, and Concordia University professors, further validating their experience and learning in the Artful Play program.

As art educators, we are both strong believers in the collaborative art making process, where more than one person contributes to an artwork or an idea. It is for this reason that we adopted an emergent curriculum approach in the development of the Artful Play program. Our hope is that through the promotion of artful play in the everyday, a process emphasis art and lifestyle practice, others too might explore this inclusive and thought provoking approach in their own teaching practice. After all, play allows for creativity, and creativity paves the way for innovative ideas putting forth change towards a better world.

References

ArtPlay, (n.d.). What is ArtPlay. Retrieved from http://www.melbourne.vic.gov.au/artplay/Pages/ArtPlayHome.aspx
ArtPlay Melbourne. (2012), ArtPlay engaging with artists. Video. Retrieved from http://www.youtube.com/watch?v=rlI-GZtATN0
Brown, S., & Vaughan, C. (2009). Play: How it shapes the brain, opens the imagination, and invigorates the soul. New York, NY: Avery.
Duncum, P. (2009). Toward a playful pedagogy: Popular culture and the pleasures of transgression. Studies in Art Education, 50(3), 232-244.
Ford, S. (2005). The Situationist International: A user's guide. London: Black Dog.
Lawton, P. (2010). Hand-in-hand, building community on common ground. Art Education, 63, 6-12.
Ohio Art. (2013). Etch A Sketch. Retrieved from http://ohioart.new.cosdevx.com/brands/etch-sketch
Park(ing) Day. (2012). About park(ing) day.  Retrieved from http://parkingday.org/
Playeum, The Play Museum. (n.d.). About the playeum. Retrieved from http://www.playeum.com/our-programme
Situationist International (n.d.) In Wikipedia. Retrieved from http://en.wikipedia.org/wiki/Situationist_International
World Carfree Movement. (2014). Retrieved from http://www.worldcarfree.net/
Vormann, J. (n.d.). Dispatchwork. Retrieved from http://www.janvormann.com/testbild/dispatchwork/]]>