Allison Brown
4th year, Major in Film Animation

The Inbetween
Duration: 2:23
Digital 2D Animation 2048 x 1080
Music arranged by Nenad Mićanović
2019
Artist Statement:
The Inbetween is an animated short illustrating the point in a young adult's life where they accept that they have outgrown their childhood home. Not that they can never return, only that it will never be the same as when they were small. In the film, a girl outgrows her home and leaves for a new one where she might fit. Upon arriving, she realizes she may have some more growing to do before this new home suits her.

The idea for this film arose at a time when I was feeling an inexplicable sense of loneliness and confusion about my future and a homesick nostalgia for my childhood. I didn't want to move back to my hometown; it felt so different now, from when I was a teenager. And I didn't want to be in Montréal in my apartment because I didn't feel like I was old enough or "ready" to be taking care of myself completely. I wanted to either go back in time, or fast forward to a future where I would be and feel more secure.

The Inbetween is for those who leave their childhood home feeling larger than life, to pursue an ambition, or simply for a change of scenery. I expect the audience to reflect on their personal intermediary stages, as well as their experience of leaving home and returning back for the first time after being out on their own. This is all to say, I think we're all a bunch of little giants just trying our best to grow and figure it out.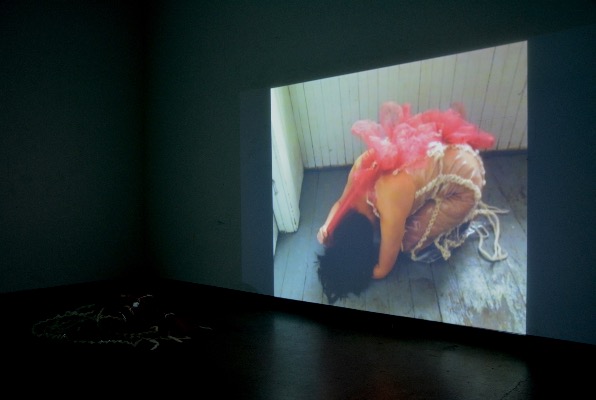 Figure 1. Keeping it Together
Élisabeth Harvey
Third year, Art Education Specialization
Keeping it Together
Nylon tulle dyed with Lac, vinyl, wool yarn
2:03 min Video projection of performance
2017
Weighted
2:36 min Video Montage
2017
Keeping it Together
The video performance, Keeping it Together, explores the body's surface as a container, a barrier and a mediator of experience. This artwork sprung from an inquiry about the body's ability to produce and interact. The vinyl embodies the invisible border that our skin imposes on our experiences. In this performance, the body reaches out, grows, evolves by moving from outside its boundaries to inside its container. The containment by the body is rendered by the use of a diaphanous red fibre material being place under and through the vinyl skin.
Weighted
The video, Weighted, explores the body's weight and its capacity to fill and occupy a space. I created this project as an experimentation to understand the potential of video montage and sound sampling. Transparency occupies an important place in layering multiple bodies to break down movement and fill the screen. The colours create a visual rhythm, but also boundaries, highlighting various lines present both in the space and in the body. The entire video was shot in a bedroom, and some of the upside down image alterations are used to suggest ideas of personal inner space and weightlessness for the body movement.
Please visit the link to view both performances: http://www.elisabethcharland.com/video-performance.
Carolyn Weisnagel
4th Year, Art Education, Specialization
School's out and TASK is in!
Video 1:24 min.
2014
In June of 2014, Concordia University's Art Education Department hosted Brooklyn-based experimental artist Oliver Herring to create TASKmtl, a series of TASK parties which invited people of all ages to participate in improvised expression through art, messy play and interactive performance. In this two week intensive workshop our group collaboratively designed, engaged-in, documented, and compiled materials to include coordinated spontaneous networked communications for each TASK event through popular mass media sites such as Instagram, Facebook, YouTube and Pinterest.
To promote our Teen edition of TASKmtl, creating a targeted message directed at youth in the medium and visual form through which they communicate became an amazing task for reflecting on teaching practice. As a visual artist engaged in digital storytelling, establishing "a connection between the creator and the viewer," and knowing your audience gives voice to engaging communication (Howland, Jonassen and Marra, 2012, p.227). As an art educator "making content and connections relevant to students' lives helps bring meaning and purpose to instruction in all content areas" (Dreon, Kerper and Landis, 2011, p.7). Drawing on these essential principles I looked to my students as teachers and chose one of their favourite platforms: the Hollywood-style iMovie Trailer as the vehicle for inviting them to join us.
Conceptualizing celebrating the end of a school year with art-making, my video School's Out and Task Is In! was easily supported by the Hollywood-style movie trope my students introduced me to during our issues-based L.E.S on stop-motion animated films. The Trailers allowed them to quickly edit clips into quirky themed templates during the postproduction phase of editing on their iPad in class, when Media Lab time was unavailable. The immediacy of its platform proved it to be a great tool for unpacking the more sophisticated desktop movie-making software platforms to come and allowed for practice working out timing of music, titles, transitions and credits for their films. At TASKmtl, personal stories influenced the tasks we wrote, performed, shared and collected.
My short trailer serves to build a greater story around Oliver Herring's Socially Engaged Art and the inclusive vision and nature of collaborative art practices and TASK. My students' way of knowing and storytelling "as actors who view, read, watch, play and often instruct their teachers about popular culture and media" has also helped me to reflect upon, evaluate and expand thinking about my own knowledge production and the dialogical relationship I have with students as cultural producers (Marshall and Sensoy, 2011, p.2). Created for: ARTE 398U TASKmtl.
References: Dreon, O., Kerper, R. M., & Landis, J. (2011). Digital Storytelling: A Tool for Teaching and Learning in the YouTube Generation. Middle School Journal (J1), 42(5), 4-9. Howland, J. L., Jonassen, D., & Marra, R. M. (2012). Meaningful learning with technology (4th ed.). Boston, MA: Pearson Education Inc. Marshall, E., & Sensoy, O. (2011). Rethinking popular culture and media. (1st ed.). Milwaukee, WI: Rethinking Schools Ltd.
Sophie Glowa
4th Year, Art Education, Specialization
Down by the Bay
Created for: ARTE 354 Time-based media / Cutout Stop Motion Animation 1:08 mins 
2012
My art practice focuses mainly on storytelling and includes creating paper and wood puppets because of their inherent ability to evoke narratives with viewers. With this project, I wanted to adapt my puppets to animation. The paper cutout stop motion animation technique I used was inspired by the work of filmmaker and director Terry Gilliam and by shadow puppetry. I wanted to use animation to tell a simple and humorous story, to make the piece accessible to students and various audiences.
Gina Di Staulo & Karine Manibal
4th year, Art Education Specialization
How to make recycled paper
video 7 mins. 51 sec.
2010
This is a short instructional video on how to make recycled paper at home or in the classroom. It is a step by step demonstration of the paper making process. This video can be a useful tool for art educators, or even inspire other teachers to explore the educational possibilities of new technologies in the classroom.
Philippe Mastrocola
2nd Year, Art Education Major
Graffiti artist
video 1 min. 46 sec.
2009
I thank graffiti for transforming my perspective on the world. It is through graffiti that I have learnt what it means to be an artist. It seems that the majority of the population view graffiti simply as vandalism. My graffiti career has taken me on a roller coaster ride filled with highs and lows. It is through graffiti that I developed an artistic eye, learning about colour, design and even photography. The following video is a time lapse of a work of graffiti I painted in 2009.
Philippe Mastrocola
3rd Year, Art Education Major
Remembered
spray paint, DSLAR time lapse film 40 sec.
2011
This time-lapse memorial piece is dedicated to the life and visual work of my late friend. As an artist, he shared his love for art and inspired the lives of many people. It is through his artwork and his legacy that I am inspired and reminded to take full advantage of the life I am living.
Gabisha Giritharan
3rd Year, Art Education Specialization
Recyclar por Favor
Video made collectively with children from 1er Mayo, Peru 3 min. 01 sec.
2012
As educators, we must encourage students to take charge of their own projects, allowing them to act on their creativity and potential. When working with culturally different populations, we have to be open to change.
I believe that art education is not about teaching how to make aesthetically pleasing craft creations, but instead a process which involves critical thinking through questioning and art making. Not only does the artistic process ask individuals to question and  investigate, collaborative art making can produce great success in learning and achieving, as has been repeatedly demonstrated. I'd like to share an example from my own teaching experience which involved creating a stop motion video with the children of the 1ero de Mayo community in Iquitos, Peru, in the summer of 2012.
I travelled to Peru with the Operation Groundswell, a non-profit organization that offers the opportunity to volunteer while backpacking in different parts of the world. Our volunteer group consisted of 13 people aged 17 to 23, from different backgrounds and countries. We volunteered on projects in the city of Iquitos, in a community called 1ero de Mayo. In 1ero de Mayo, houses were built side-by-side on either side of a river that runs down into a pond. During the rain season, the water level rises and the community will have to evacuate their houses. Consequently, one of our volunteer projects was to help build a retaining wall to prevent the damage caused by the flood.
Another problem in the community is the amount of garbage. Garbage is constantly thrown into the river and discarded around the community, causing health, safety and environmental concerns. To address this issue, the local organization for youths, Kallpa, has implemented a five- year program to solve this problem in cooperation with the community. Kallpa will be teach youth in the community about healthy living and the consequences of polluting. Mikel Iriarte, one of the trip leaders and a film student, had the idea to make a stop motion video with the children as a means to encourage recycling.The children of the community were always eager to play, and constantly enjoying their time outside in the sun. They were constantly getting dirty, climbing poles and running barefoot everywhere. It was a challenge to get and keep their attention, which we did in part by ensuring that they were the decision-makers on the project.
As we worked together, we found that language barriers brought us closer to the children of 1ero de Mayo, as we continuously tried to understand each other. Our project had three stages: Collecting found materials (also a way of encouraging recycling), creating sea creatures from these and making the video using these sea creatures as characters. For the first step, we searched and collected objects that were 'interesting'. Our suggestion to the children were to find interesting objects that are thrown away because they had no use. The children were eager to find different objects; it was exciting to see them going around their community to collect items. They were constantly asking our group if the objects they found were interesting. Some children would stay for a while and then run off home, while others would participate the entire day. These objects were initially everyday objects once used within a family.
This step in the project triggered a reaction from the children who were beginning to realize how much garbage was being discarded in their community. The second step was to wash and reuse the objects to make sea creatures. Three members from our group sat in front of a house and started making sea creatures. One by one, students started to join them. Creating sea animals brought different children together where they can use their creativity. Through art, everyone was able to understand each other and continue with the process of art making. Not only were the children making creatures but also made sounds and actions to explain which creature they were making. E. Garber (2004) describes education as "…a vehicle of social transformation" (p.2) and this project demonstrated transformation in action. Although there was an obvious language barrier between the volunteers and the children, we had a great connection that helped us accomplish our goals. I felt that we did not have to explain the notion of recycling to the children, in that our actions were louder than words. It was evident that collaborative art making resonated with some of the children when the next day, they made their own creations.
The third step was to take photographs for the stop motion video. Originally, we planned for the children to shoot on video, but found this was too difficult to do. Stop motion video is a long and slow process and it was difficult to keep young children focused. The children were more interested in making objects rather than participating in making the video. All the children were interested in being in front of the camera but they did not follow our instructions. Some of them started playing with other found materials and others started making their own toys.
I realized here that my language barrier and my difficulty to express my ideas made it hard to ask the children to participate with full cooperation. I believe that as group we succeeded in teaching the children about recycling with the first two steps of the project. In turn they had taught us how to speak some Spanish and tackle different situations and cultural differences that had arisen during our project. In the end, we had only a few children helping out with the long process of creating the video. In a culturally different environment, we cannot expect everything to work out as we envision. We have to be ready to adapt to different methods of living and working that may not be similar to our own.
Finally, when the children were able to see the video, they had created, they were very happy and excited. This video was not only shown to the young children of the community but to the adults as well. Although this is simply the beginning of their learning to care for their environment as well as their own health, I believe there was an impact. Our group hopes that the people of 1ero de Mayo continue to raise awareness and communicate the risks and consequences of polluting and dumping garbage into the river.
As Lowe (2001) affirms, together children can learn to use art as an agent of social change (p. 458).  With ongoing teaching from Kallpa, I am positive that the youth of 1ero de Mayo will learn to improve and take care of their health and environment. Recyclar por Favor was a success because we did not impose our beliefs and strategies onto the community. It was important for us to realize that our perspectives and methods may be different from the people in 1ero de Mayo. As educators, we must encourage students to take charge of their own projects, allowing them to act on their creativity and potential. When working with culturally different populations, we have to be open to change. As an art educator, I realize that children have as much to offer to me as I may for them. It is a continuous give-and-take situation, with a steady flow of discovery. Making a stop motion video with the children of 1ero de Mayo was a wonderful experience.
References: Garber, E. (2004). Social justice and art education. Visual Art Research, 30 (2): p. 4-22 Lowe. S. S. (2001). The art of community transformation. Education and Urban Society, 33 (4): p. 457
Heather Hardie
4th Year, Art Education Specialization 
Rebel Girls: Empowerment & Education at Rock Camp for Girls Montreal
Video 10 min. 28 sec. 2012
What sets this organization apart from other camps is the emphasis placed on building life skills, self-esteem and empowerment during arguably the most impressionable and formative stage of the campers' lives. Music is the medium through which these transformations occur. Within this supportive and open space, incredible things happen over a very short period of time.
One of the biggest challenges facing educators working within traditional school systems is to deliver required curriculum content while engaging youth to become autonomous, motivated learners. Volunteering at Rock Camp for Girls over the past three summers has demonstrated to me that alternative forms of pedagogy can be brought into the mainstream school classroom. This text and video examine the ways in which Rock Camp for Girls serves as a successful model for alternative, anti-oppressive forms of pedagogy. I will discuss how the learning environment, methods of instruction, and assessment of learning used at Rock Camp may be applied to both community and formal learning centres.
The camp is a non-profit organization that brings together girls between the ages of 10 and 17 to collaboratively learn, create music, and explore their identities as well as their potential as musicians. The focus of the camp, female empowerment, is presented through instruction, workshops, and daily activities within a feminist framework. The Montreal branch of Rock Camp for Girls is one of many similar grassroots organizations around the world modelled from the original Rock Camp for Girls in Portland, Oregon in 2001 (sts, 2008, p. 19).
Over the course of one week, campers learn an instrument, form a band, and write and record a song. Additionally, the campers attend workshops that tackle issues such as gender and identity, representations of women in media, skill-sharing, performance, and the logistics of being a musician. By the end of the week, all bands showcase their original songs during a performance for hundreds of spectators. What sets this organization apart from other camps is the emphasis placed on building life skills, self-esteem and empowerment during arguably the most impressionable and formative stage of the campers' lives. Music is the medium through which these transformations occur. Within this supportive and open space, incredible things happen over a very short period of time.
Key components of the learning environment
It was established right away that the camp was a safe space for everyone by encouraging self-respect and respect for others. A collective agreement (for both volunteers and campers) was created at the beginning of camp to outline the ways in which people could work together in the most positive and productive manner. This set the tone and helped to create the notion of a safe space throughout the week. The camp focused on raising awareness of power structures, celebrating diversity, and engendering a sense of community. Volunteers and campers were encouraged to acknowledge personal biases and differences within a critical and constructive, yet supportive, framework. Individual strengths and talents were met by adapting to different learning styles, naturally promoting a process of empowerment.
The collaborative efforts of volunteers and campers alike made for the successful transformation of ideas and standpoints on women's roles in music and society. As Asuncion M. Austria and Joy K. Rice (2007) write, "…collaboration is both a feminist principle and a feminist practice. Collaboration empowers women who might otherwise remain isolated, silent, and fearful. In a social system that encourages female passivity, collaboration brings women together to change the circumstances of their lives" (p. 159). Although Rock Camp is a gendered space, care was taken to refer to youth as "campers" and not "ladies" or "girls" so as not to reinforce the normative ideology that sex determines gender. To explain this notion, Andrea Doucette and Janet Siltanen (2008) write, […] society provides different gender roles or scripts, which men and women learn and follow. […] Social institutions – the family, schools, the media – acting as agents of socialization were said to reward boys and girls who behave in ways deemed appropriate to their gender and punish those who did not (p. 10).

At Rock Camp, volunteers worked against being a traditional agent of socialization by avoiding oppressive language and behaviour. Language plays a key role in this phenomenon, so careful use of personal pronouns, as well as using appropriate age and culture-specific vocabulary was set within the camp's mandate.

As one might imagine, the dynamic of an entirely female space is quite unlike what occurs in most co-ed schools. Whether the campers realised it or not, their behaviour changed as early as the first day at camp. As Jane Kenway and Helen Modra (1992) write, "In allowing boys to dominate classroom resources, in setting different standards for and having different expectations of girls and boys with regard to achievement and classroom rules and speech practices, many teachers are seen to treat their students in ways that confirm rather than challenge conventional gender identities" (p. 147).

This is not to say that girls and boys should necessarily be separated in schools and summer camps, but rather that teachers/instructors/facilitators should be aware of any possible gender bias in their use of language, the behaviour they model, and the expectations they set for their students.

Transfer of knowledge and skills: Implications and applications

Instrument instruction and workshops were student-centred at Rock Camp; instructors assumed the role of facilitators who guided lessons rather than dictated them. A forum for skill sharing and peer learning placed importance on individual strengths and engendered a sense of community. These methods of teaching worked to level the power structures at camp and empowered youth to direct their own learning, regardless of age or ability.

A summer camp inherently lacks some of the rigidity and discipline required of youth in a traditional classroom, but it is important for educators and facilitators to identify and consider their roles as authority figures in either setting, as this positionality directly affects learning. In an essay on authority in feminist pedagogical practices, Dale M. Bauer (1991) writes, "Authority, like the word "power" […] suggests an identification with patriarchy, [and] is necessarily hierarchical and dispassionate" (p. 23). However, rather than reject the concept of authority for its inherent negative connotations, Bauer suggests that we embrace or "claim" authority as an "emancipatory strategy" (p. 25) to engender critical awareness in ourselves and in others. This means "treating students as if they ought to be concerned about the issues of social justice and political action" (Giroux, as cited in Bauer, 1991, p. 25) rather than simply telling them they should. In other words, this means meeting youth at eye-level, learning about their interests, and challenging them to consider the world around them with a critical voice.

Assessment of learning

Because there is no required curriculum, there is no need for campers to demonstrate that they have, for instance, memorized all of the female musicians and their birth dates from the Girl Rock History workshop, or be able to describe the scientific properties of a sound wave. As learning takes place on so many levels each day, assessment can occur before, during, and after the camp week, in many different forms. To many people, assessment is a way of judging whether someone has succeeded or failed – a test of "knowledge" or the ability to memorize information. Why not consider performances, portfolios, and participation as ways of assessing whether someone has grasped a concept, or grown as an individual? By observing and engaging with youth as they experiment and explore a subject area, one can learn many things: where the individual is coming from, where their strengths and needs lie, and what direction to suggest for their learning. These activities comprise a form of assessment that helps to guide the learning process, and most importantly, does not emphasize right or wrong. In fact, "failures" can be seen as starting points for something new and exciting, and should be encouraged! Assessment also lets the facilitator know if they have achieved their own personal goals for the program. It is a way to reflect on the structure of the program, to celebrate achievements and to make improvements where necessary.

By drawing on feminist pedagogical research as well as personal reflection, I would argue that many elements of the structure of learning that takes place at Rock Camp for Girls can indeed be borrowed and implemented in a traditional school setting. The act of fostering and insisting on anti-oppressive environments and adapting to diverse needs validates individual differences and creates a safe learning space for everyone. By considering alternative forms of assessment, one can use observation, reflection, feedback, performance, and participation as ways of encouraging and monitoring achievement.

References

Austria, A.M. & Rice, J.K. (2007). Collaborative leadership and social advocacy among women's organizations. In Chin, J.L., Lott, B., Rice, J.K., & Sanches-Hucles, J. (Eds.), Women and leadership: Transforming visions and diverse voice (p. 159). Malden, MA: Blackwell Publishing Ltd.
Bauer, D.M. (2009). Authority. In Crabtree, R.D., Sapp, D.A., & Licona, A.C. (Eds.), Feminist pedagogy: Looking back to move forward (pp. 23, 25). Baltimore, MD: The John Hopkins University Press.
Doucet, A. & Siltanen, J. (2008). Gender relations in Canada: Intersectionality and beyond. Don Mills, ON: Oxford University Press.
Kenway, J. & Modra, H. (1992). Feminist pedagogy and emancipatory possibilities. In Carmen, L. and Gore, J. (Eds.), Feminisms and critical pedagogy (p. 147). New York, NY: Rutledge.
sts. (2008). Let there be rock. In Anderson, M. (Ed.), Rock 'n' roll camp for girls: How to start a band, write songs, record and album and rock out! (p.19). San Francisco, CA: Chronicle Books.]]>