Lucy Piper Giles Sharpe (she/her)
3rd year, Studio Arts
Philosophies of Pleasure
48″ x 60″
oil paint
Artist Statement:
Lucy Sharpe is an artist, student and cook living in Montreal. Her practice revolves primarily around mindful hedonism, as well as sex, cooking, feminism, intergenerational relationships and climate justice.
Description:
My work Philosophies of Pleasure investigates the way that indulgence allows us to more genuinely interact with one another. We are often taught to feel guilt about the things that make us feel good, and that guilt prevents us from genuinely engaging both physically and spiritually with those around us. By freeing yourself from shame, you are enabling yourself to interact with sincerity.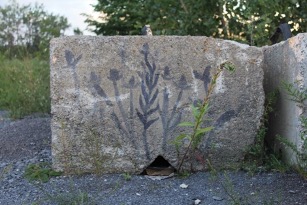 Natacha Girouard
Third Year, Specialization in Art Education
Connecting to Hybrid City Spaces
Series of Cyanotypes
2021
Artist statement:
I am a budding art educator with a background in outdoor education and studio arts. In my teaching/art practice, I incorporate recycled, repurposed and natural materials. I am interested in outdoor spaces as co-facilitators. I aspire to connect with local community organizations and schools to create opportunities for experiential learning, movement, risk-taking, and participant-led projects.
Description:
The submitted work is a reflection on a project done over the summer using cyanotype to connect/interact with to outdoor spaces in the city. The submitted work includes documentation (pictures) of the project and workshop given.
---
Cyanotype Project
Connecting to Hybrid City Spaces
How do you define connection; is it limited to people, or does it encompass self, city, earthly nature, and more?
During the summer break 2020, I set out to connect with my environment and art practice using cyanotype. By exploring the photographic process in situ, I hoped to change my relationship to familiar city spaces. I wondered if I could feel a deeper connection to the city and nature within it. To further experience cyanotype as a relational tool, I aimed to share my process and host an outdoor workshop while navigating the evolving pandemic health regulations.
If you are familiar with cyanotype, perhaps and a satisfying blue comes to mind. The Greek definition of cyan, a deep-blue impression, describes it well (Stulik & Kaplan, 2013). The process is low-tech and low toxicity; it uses two soluble powders (ferric ammonium and potassium ferricyanide) to create a photosensitive solution (Ware, 1998). When exposed to ultraviolet light and developed in water, coated paper turns deep blue. By hiding areas from exposure, compositions and images can appear. English physical scientist John Herschel discovered cyanotype in 1842 on his quest for a colour photographic process (Ware, 1998). Atkins' botanic prints and photographic books Photographs of British Algae: Cyanotype Impressions (1843-53) are early examples of the technique and possibly the first photo-illustrated books (Stulik & Kaplan, 2013). Contemporary artists such as Megan Riepenhoff, Erin Shireff, and Andrea Chung have adopted and adapted the process with exciting results. Megan Riepenhoff creates abstract compositions by exposing large, coated sheets to the water, salt, and sand of American beaches. As photographers, artists and hobbyists embrace the blue, sourcing materials and information is increasingly accessible.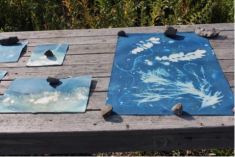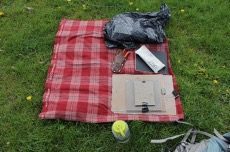 I was drawn to the medium's directness, portability, low-cost, and potential for experimentation. Beyond the powders' initial cost, I spent little on materials using left-over fabrics, paper, and cardboard. I pressed materials between old glass frames with clips to create sharper prints. Importantly, I could carry or bike all my materials using a backpack.
I chose three locations in Montreal/ Tiohtià:ke where nature and city structures interact: the Loyola City Farm, Projets Éphémères, and the Blue Bonnets Hippodrome. I frequently visited these spaces for work, solitude, and a sense of "the wild" within the city. In each location, I experimented with different natural materials, objects, and techniques. At the Loyola City Farm, I made prints from the compost pile and placed coated paper amongst the grasses and plants. At the Projets Éphémères gardens, I played with the effects of water, mud, and found objects. I used my apartment balcony to expose kitchen scraps, tea leaves, and ice cubes. These are just a few examples of how cyanotype drew me closer to these spaces and their materials. The process allowed for a sense of discovery and play. While making prints, I became more aware of each sites' textures, moisture, and shapes. My awareness also turned to the sky, as changes in light greatly affected exposure. In full sun prints take about 15 minutes, while they can take hours with cloud-cover. The sun's angle also affected prints by creating long shadows. The process permitted me to spend hours at a time in these spaces, present and focused. It felt a lot like "connecting". The prints produced stand as collections or snapshots of my interactions with these spaces.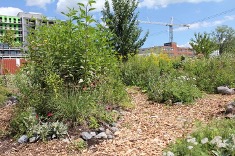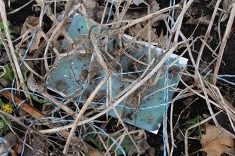 I was eager to share my experience of these hybrid nature/city spaces with others but, hosting a workshop during the pandemic made me anxious. I went ahead following the most up-to-date health regulations and invited four friends to the Projets Éphémères gardens. Projets Éphémères started as a gravel lot granted by the University de Montréal for community gardens and urban agriculture nearly six years ago (UdeM, 2021). It has been criticized as an effort to increase UdeM's new campus' social acceptability, located in the Parc-ex neighborhood (Colpron, 2019). Over the years, community organizations have built-up the soil and it now supports a diversity of insects, birds, fruit trees, herbs, and vegetable gardens. Projets Éphémères is, however, temporary and planned for demolition in the last phase of building the new campus.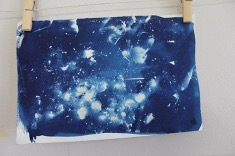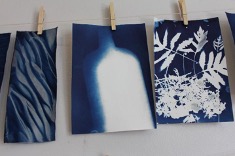 I began the workshop with a quick tour and introduction followed by an exercise to "tune-in" to the site and our senses. Each participant chose a unique spot to sit alone and answer a list of questions in their sketchbooks. The questions, inspired by awareness practices, included: What are the furthest and nearest sounds you hear? What do you smell? What attracts your eyes? Etc. Participants jotted their answers and sketched the space around them. Some drew detailed plants and city structures, while others created sound maps. We regrouped, reflected on our experiences, and read harvesting best-practices by Potawatomi biologist and writer Robin Wall Kimmerer (Kimmerer 2014). We then dispersed to harvest plants and objects for our prints. Following demonstrations, participants made and developed several prints. Once everyone had gained first-hand experience with the process, I suggested making collaborative cyanotypes. I had brought some large, coated papers for this purpose. Participants became more experimental and less product-oriented while collaborating; many said it was the highlight of their day. We ended the workshop by putting objects back where we had found them, scattering plants and seeds, and reflecting on the experience. Four hours had gone by in a flash. Most participants said they felt energized and inspired to try this process in other spaces.
My final experiments with cyanotype were spontaneous graffiti on cement blocks at the Blue Bonnet Hippodrome. I drew plants that echoed the ones piercing through the gravel at the blocks' base. I enjoyed how the drawings appeared slowly with exposure and looked like shadows. Days later, the blue faded and was washed away by rain. For me, appearing and disappearing represents the natural world (the more-than-human) within the city. As explained by Alette Willis (2011), the wild and the urban are interpenetrating; cities are (to varying extents) hybrid places where humans, natural elements and structures interact. According to Willis, nature does not need to be separate from the urban or the human. She asks whether we can heal ourselves by restoring and creating access to natural spaces within cities (Willis, 2011). This perspective resonates with me and my experience of hybrid city spaces. However, ecologically diverse urban spaces are few and cannot be taken for granted as both the Projects Éphémères gardens and the Blue Bonnets Hippodrome (OCPM, 2020) are slated for urban development and construction.
The current pandemic has changed our lives, plans and outlook. Limited in-person interactions have pushed me to recognize connection as a priority. I now know that "feeling connected" is why I enjoy facilitating and teaching. I have also learned that connection is broad and can include connecting to my environment, the more-than-human, myself, spirituality, and history. Perhaps connection is adaptable, situational. By connecting to hybrid natural/city spaces using cyanotype, I felt the calm and timelessness of a nature walk without leaving the city. Is life the same? No, but maybe finding new means of connecting is valuable in its own way.
Documentation and lesson plan available at https://natgirou.wixsite.com/cyanotypeproject
This project and writing took place in Tiohtià:ke/Montreal on Kanyen'kehà: ka territory.
Thank you, Dr. Laurie Blair for guidance on this project. Thank you, Camille S., Isabel, Camille D., and Johanna for participating in my first cyanotype workshop.
References
Colpron, S. (2019, June 30). Embourgeoisement : Parc-ex sous tension. La Presse. https://www.lapresse.ca/actualites/grand-montreal/2019-06-30/embourgeoisement-parc-extension-sous-tension#
Kimmerer, R. W. (2014). Returning the gift. Minding Nature, 7 (2), 18-24. https://www.humansandnature.org/filebin/pdf/minding_nature/May2014_Returning_the_Gift.pdf
Office de Consultation Publique de Montréal (OCPM). (2020). Rapport de consultation publique quartier Namur-Hippodrome. https://ocpm.qc.ca/sites/ocpm.qc.ca/files/pdf/P107/rapport-namur-hippodrome.pdf
Stulik, D. C. Kaplan, A. (2013). The atlas of analytical signatures of photographic processes: Cyanotype. The Getty Conservation Institute. https://www.getty.edu/conservation/publications_resources/pdf_publications/pdf/atlas_cyanotype.pdf
Université de Montréal (UdeM). (2021). Accueillir les communautés avoisinantes. Université de Montréal. https://www.umontreal.ca/universite-citoyenne/projets-ephemeres/
Ware, M. (1998). Herschel's cyanotype: Invention or discovery? History of Photography, 22 (4), 371-379. https://doi.org/10.1080/03087298.1998.10443901
Willis, A. (2011). Re-storying wilderness and adventure therapies: healing places and selves in an era of environmental crises. Journal of Adventure Education & Outdoor Learning, 11 (2), 91-108. https://doi.org/10.1080/14729679.2011.633375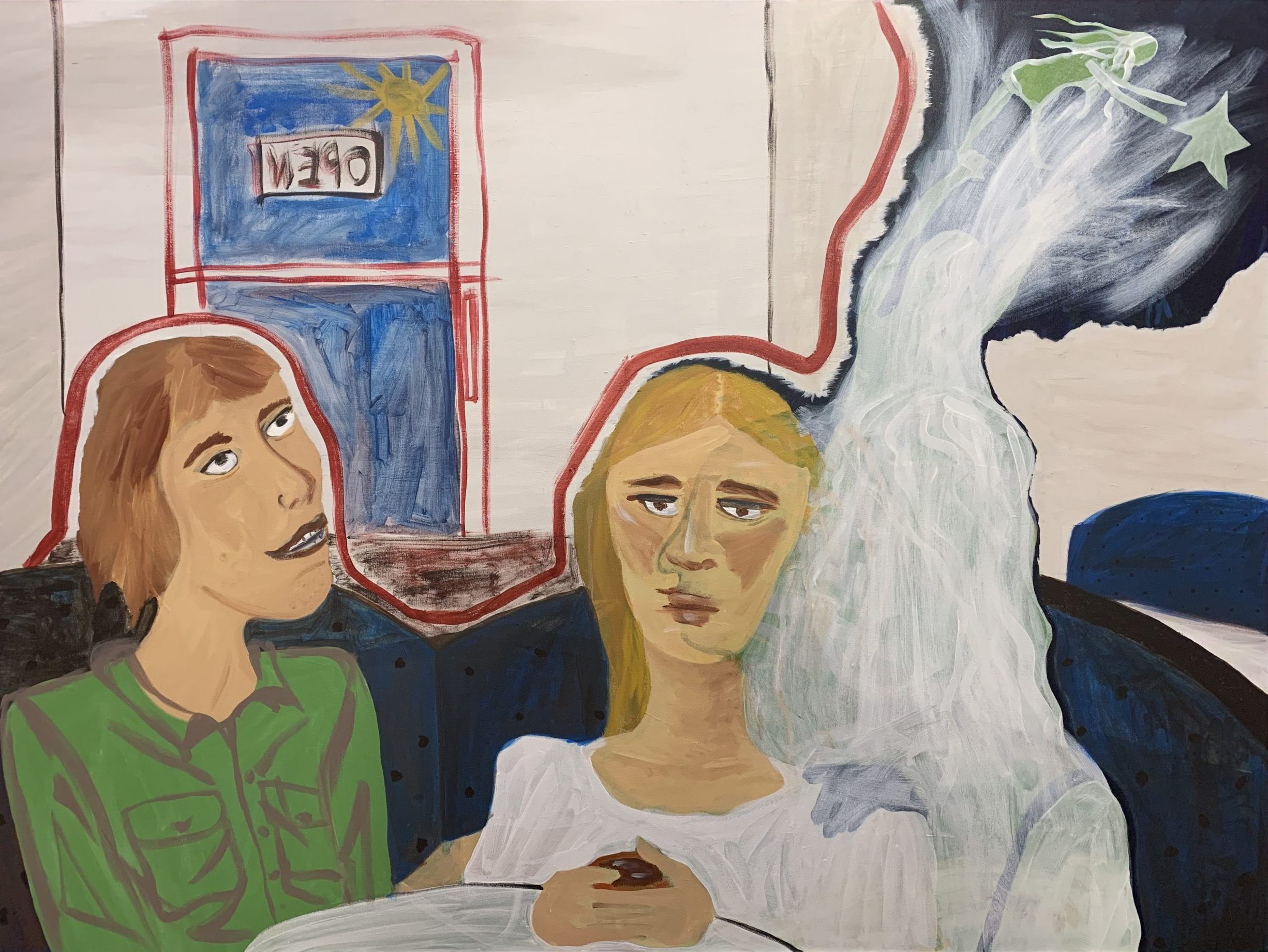 Davita Guslits (she/her)
3rd year, Painting and Drawing major
Trying to Come Back
4′ x 3′
acrylic and glitter on canvas
2020
Artist Statement:
Davita Guslits is a Fine Arts and Psychology undergraduate student at Concordia University, and has been practicing visual art for the past 12 years. Her main mediums are painting and film, which sometimes intersect with her other main interest: composing music. Davita is from a settler Ashkenazi Jewish family, living on Dish with One Spoon Treaty territory. Her recent works reflect the growing pains of extracting personal identity from internalized stereotypes, as well as her mounting interest in art therapy.
Description:
Daydreaming while on a Tinder date means you won't really get to know the other person, and they likely won't live up to the daydream anyway. This painting comes from a body of work examining personal accountability. Dating apps are a resented part of my life, despite the short term rush of matching with someone- but it doesn't feel like they're leaving my life anytime soon. The speed of matching and meeting potential dates belies the significant process of actually getting to know a new person, and the collective deprecation of these blind dates makes it difficult to take them seriously. But on reflecting, every date I daydreamed through meant a human being's time and dignity being wasted on the other side of the table.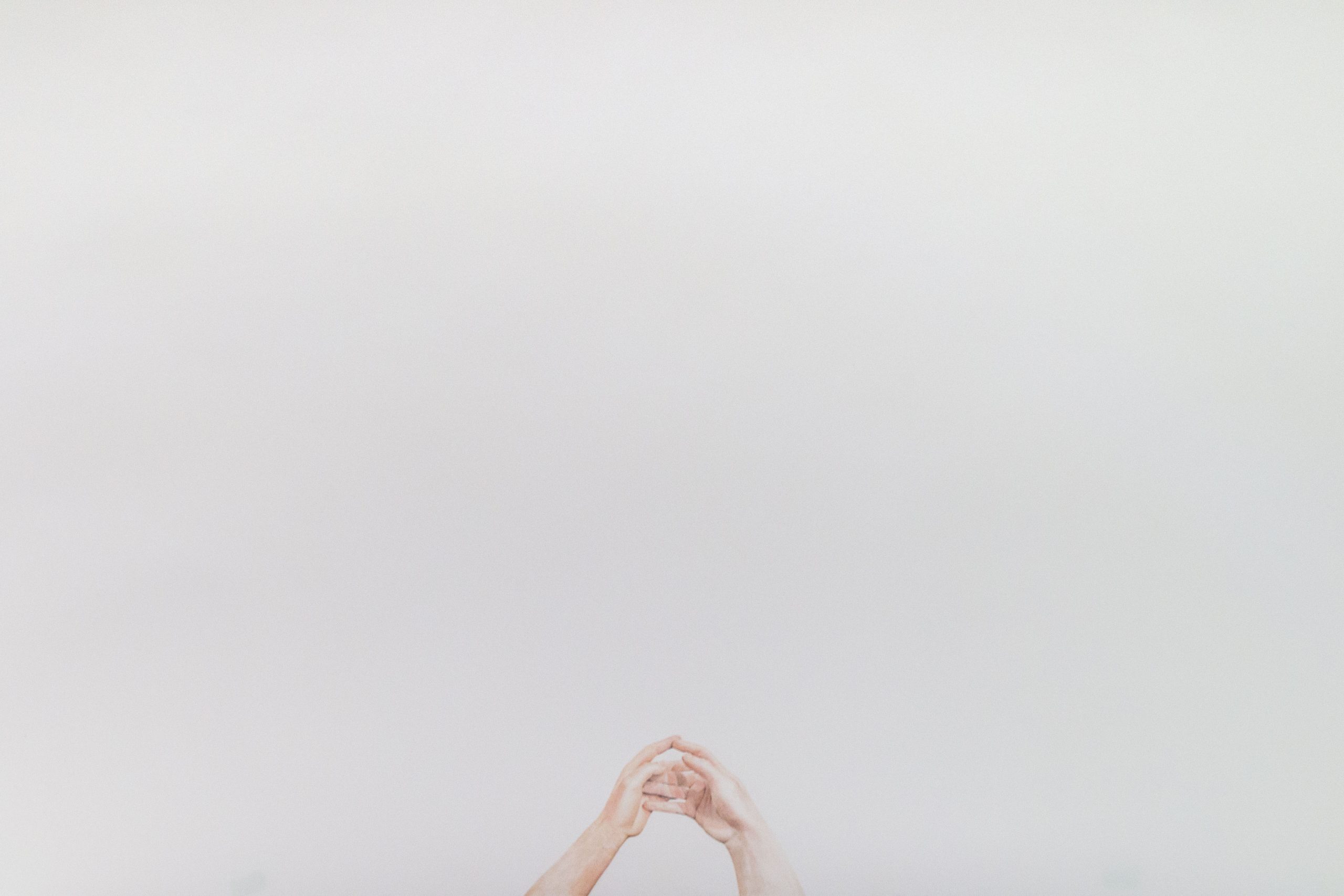 India-Lynn Upshaw-Ruffner
1st year, Art History and Studio Arts
Auxiliary
54″x72″
Coloured pencil on Fabriano Paper
Artist Statement:
I am a first-year Concordia student in Art History and Studio Arts, with a minor in Sustainability Studies. My interests lie in identity and culture when creating works. I am interested in exploring the connections cultures have to one another, and in certain cases how technology and globalization affect the community where I live and the generation of which I am a part. I am also interested in how the intersectionality of my gender, race and culture impact the various aspects of my life. A field of study that is reflected in my work is post-colonial theory, which examines how colonization has influenced and continues to have an influence on social, political and economic spheres in our lives. I want to foreground my experiences as a bi-racial Canadian woman and reveal how they differ from the assumptions of those with the most power in Western society. In my artwork I seek to provide an alternative to prevailing narratives in the Western world and demonstrate the consequences of not allowing minorities to have a voice. I seek to explore my own identity through my work, while also highlighting the lack of representation and systemic issues surrounding Black people in my society.
Description:
The cellphone has isolated us from genuine connection and feelings of emotional and psychological presence in our lives. We interact with our phones more than ever. The life-sized hands relate to the viewer, providing a reflection of what they are likely doing while observing the piece (texting on their cell phone). The drawing allows the viewer to be placed into "the void", their hands in front of the drawn ones, and their field of vision filled with white. The viewer's interaction with the drawing allows them to reflect on their current cell phone usage behaviours, and how it is impacting their life.
The title "Auxiliary" exemplifies the idea of how we have become auxiliary – or secondary – to our phones. The world becomes auxiliary to our experience of it through our phones; the outside wider world has become an addition to the world happening on our screens.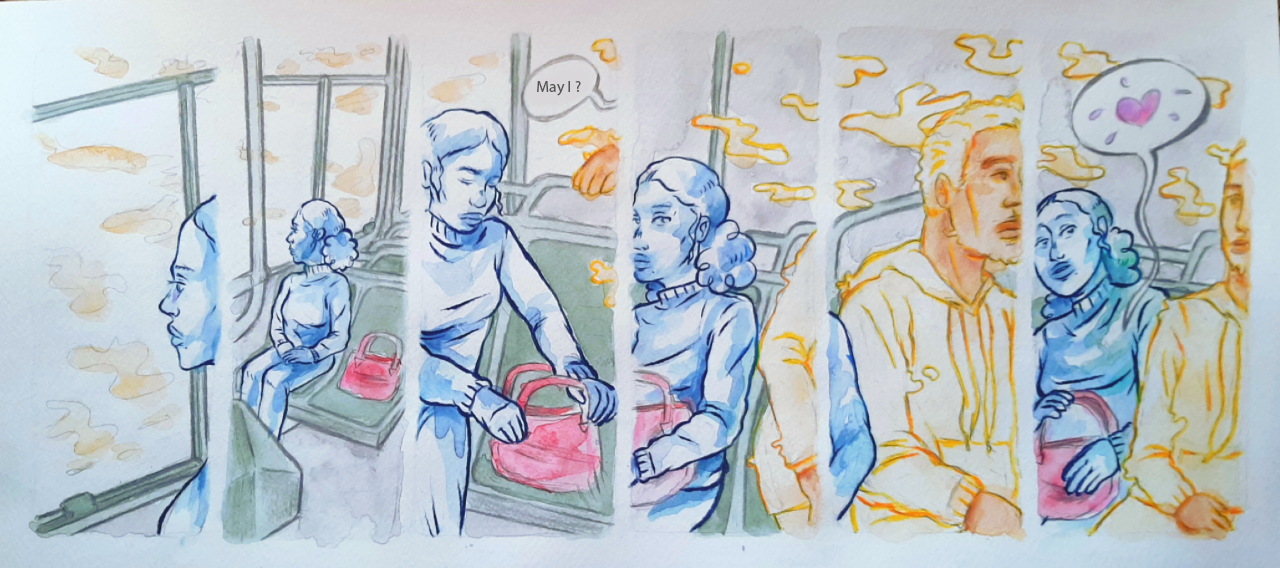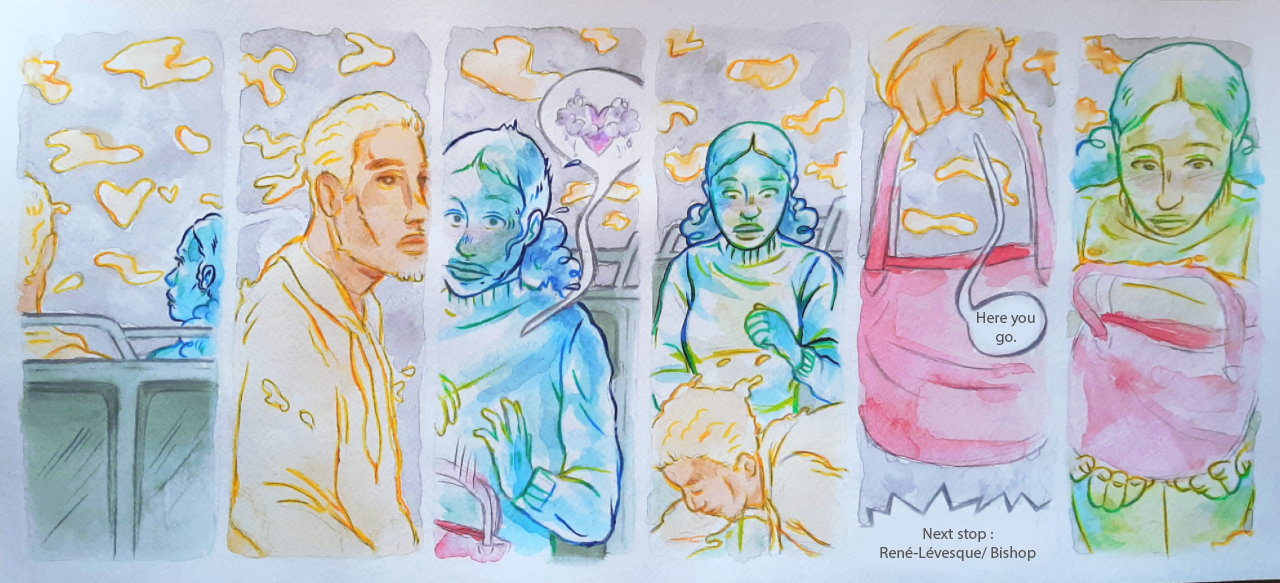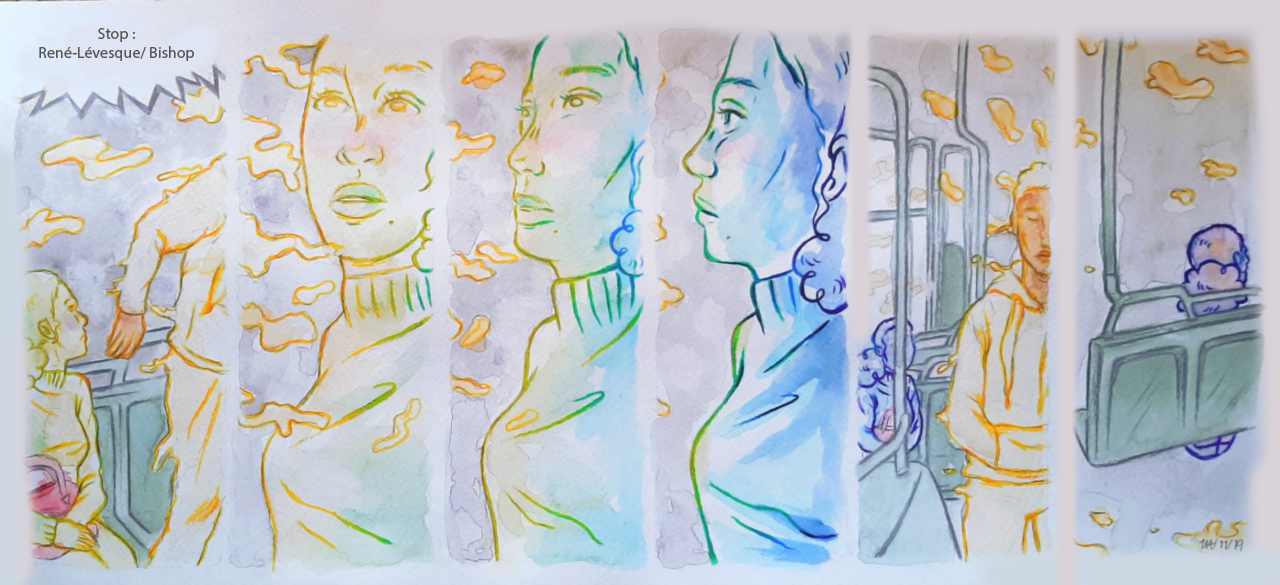 Wendy-Alexina Vancol
3rd Year, Major in Studio Arts
Daily Butterfly Commute
10″ x 20″
Water and coloured pencils on cold press paper
2019
Artist Statement:
Like many, I depend heavily on public transportation to get around. Since my school and job are far from where I live, I have accumulated quite the mileage over the years and have often been asked, "Why don't you just avoid all the trouble and get a car already?" The thought of driving has crossed my mind more than once. In fact, the ability to drive would cut my traveling time in half and would allow me to avoid the harsh Montreal climate. However, my reasons for choosing not to drive go beyond my laziness to complete my driver's permit and my lack of a car. Somehow all of those hours spent travelling in the bus have made me develop this odd fondness for the interactions which come with travelling alongside strangers. Whether it is helping an elder with their grocery bags or giving directions to a stranger, I have come to appreciate those little interactions as they brighten up any gloomy or uneventful day. Daily Butterfly Commute is a three-page comic strip about the sometimes-brief encounters we have while taking public transportation and the non-verbal modes of communication which can also occur during these happenstances. The title of this piece is inspired by the butterfly effect phenomenon, which is based on the idea that even something small is powerful enough to make big changes.

In the case of my comic, the man is a representation of the butterfly who flies out of the woman's life as fast as he came in. The brief encounter between the two alters the woman's mood; thus, unknowingly reviving her longing for more interactions. Throughout the years I have drawn many comics that have featured a variety of fictional characters and stories. Although I am the sole author and artist of those stories, I have always had a hard time situating myself as the protagonist, as I never considered my unvarying life to being exhilarating enough to base an entire story on. When drawing, in order to help my mind form a realistic image for the situations in which I imagine my characters in, I tend to physically enact the scenes. To my surprise, me doing so has resulted in my family and peers seeing my characters I drew as being a spitting image of myself and not being able to separate the two. Although that was not a part of the initial process, I will admit that the process of making comics has been a guide for me to dig into my inner psyche. The work has actually given value to all the experiences I live through as they are what formed me into the person I am today.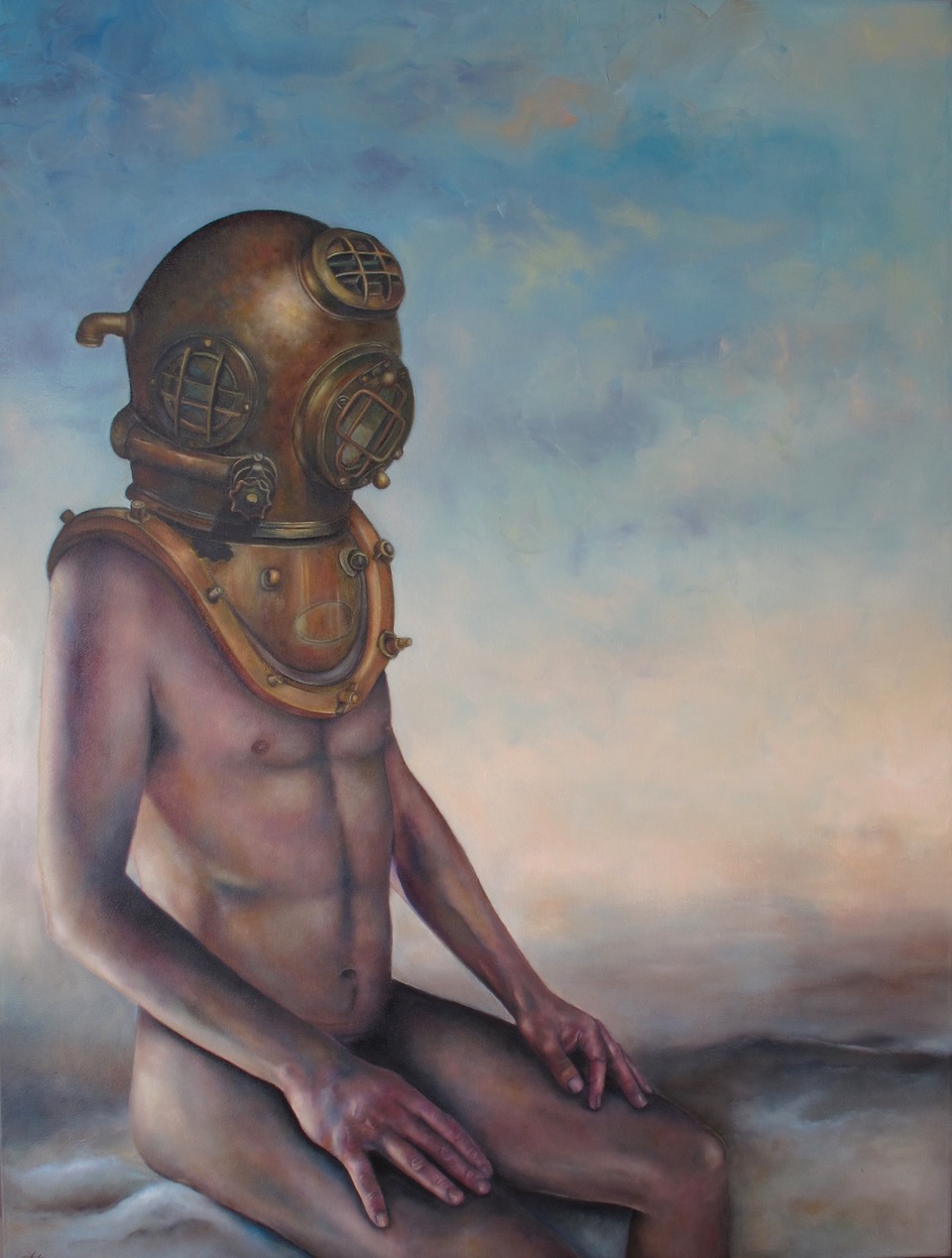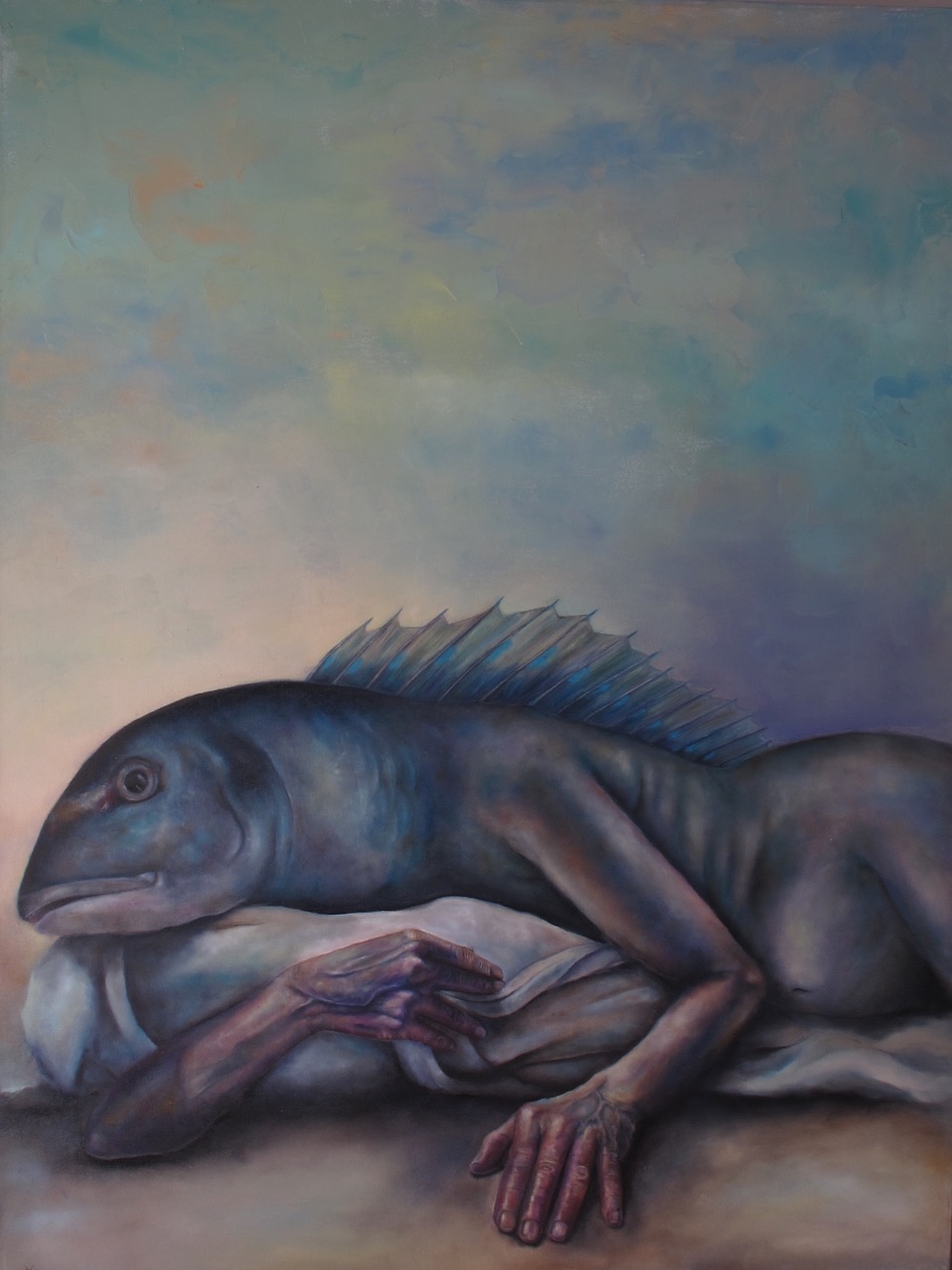 Sonya Kertész
Cinquième Année, Majeure en Peinture et Dessin
Sea Shepherd & Fish Woman
Chaque 36″ x 48″
Huile sur toile
2016
Artist Statement:
Étant plongeur depuis plus de 25 années je me suis inspirée de mes idées que m'apportent mes plongées pour produire ce diptyque. Dans ce travail artistique je tente judicieusement de recréer pour le spectateur une atmosphère propice à la détente ou à l'inverse créer un moment inconfortable et dramatique. Je cherche à faire vivre une expérience d'immersion unique à l'observateur en le projetant dans un univers qui est difficile d'atteindre tel que le monde sousmarin. C'est donc dans le cadre du cours de painting 200, à partir de modèles vivants, j'ai créé un diptyque masculin et féminin. J'ai reproduit en classe les corps nus des modèles pour ensuite faire appel à ma créativité en modifiant leurs têtes. Mon intention était de représenter une transformation et/ou une mutation des êtres vivants pour nous rappeler cette ère dans laquelle nous vivons qu'on appelle Anthropocène.

Dans ma façon de procéder, je débute par un lavis en utilisant beaucoup de solvant. Les toiles sont toujours réalisées par l'accumulation de plusieurs couches subséquentes de peinture en prenant le soin de laisser sécher entre les couches. Enfin, les diverses couleurs fabriquées à l'aide de plusieurs tonalités et appliquées avec des pinceaux de différentes tailles ont pour but de rechercher des combinaisons de couleurs dichromatiques.

Une des scènes du diptyque représente Sea Shepherd; l'homme à la tête d'un scaphandrier doté d'un corps fort musclé assis calmement au fond des mers et qui pose un regard veillant et inquiet sur une femme à la tête d'un poisson (2e scène). Fish Woman, à la chair bleutée tel une carcasse affaiblie est allongée avec un regard mélancolique, dans lequel son état de mutation semble souffrant et agonisant. L'accent et les détails des tableaux sont portés sur les mains des deux personnages pour évoquer les liens qui nous unissent entre les hommes et les femmes. Les couleurs des arrière-plans sont claires et lumineuses afin de susciter l'espoir. Dans mes œuvres je cherche à représenter la beauté de l'univers marin mais qui parfois amène aussi un côté beaucoup plus sombre. Depuis les dernières années lors de plongées, j'assiste à un spectacle d'innombrables déchets tels que les bouteilles de plastique, des sacs, des détritus de toutes sortes. Ces observations me bouleversent et m'amènent sur la question de l'Anthropocène; celle où les activités humaines ont eu un impact global significatif sur l'écosystème. C'est d'ailleurs pourquoi l'intention de mes œuvres est de présenter ce qui est plein d'attirance ou de répulsion, dramatique et/ou grotesque, vivant ou sans vie, rare ou multiple. Ces différentes dualités exprimées dans mon travail cherchent notamment à attirer et repousser le spectateur. Finalement, l'un des objectifs principaux réside dans la sensibilisation et la conscientisation de la population à la fragilité et la survie de nos océans.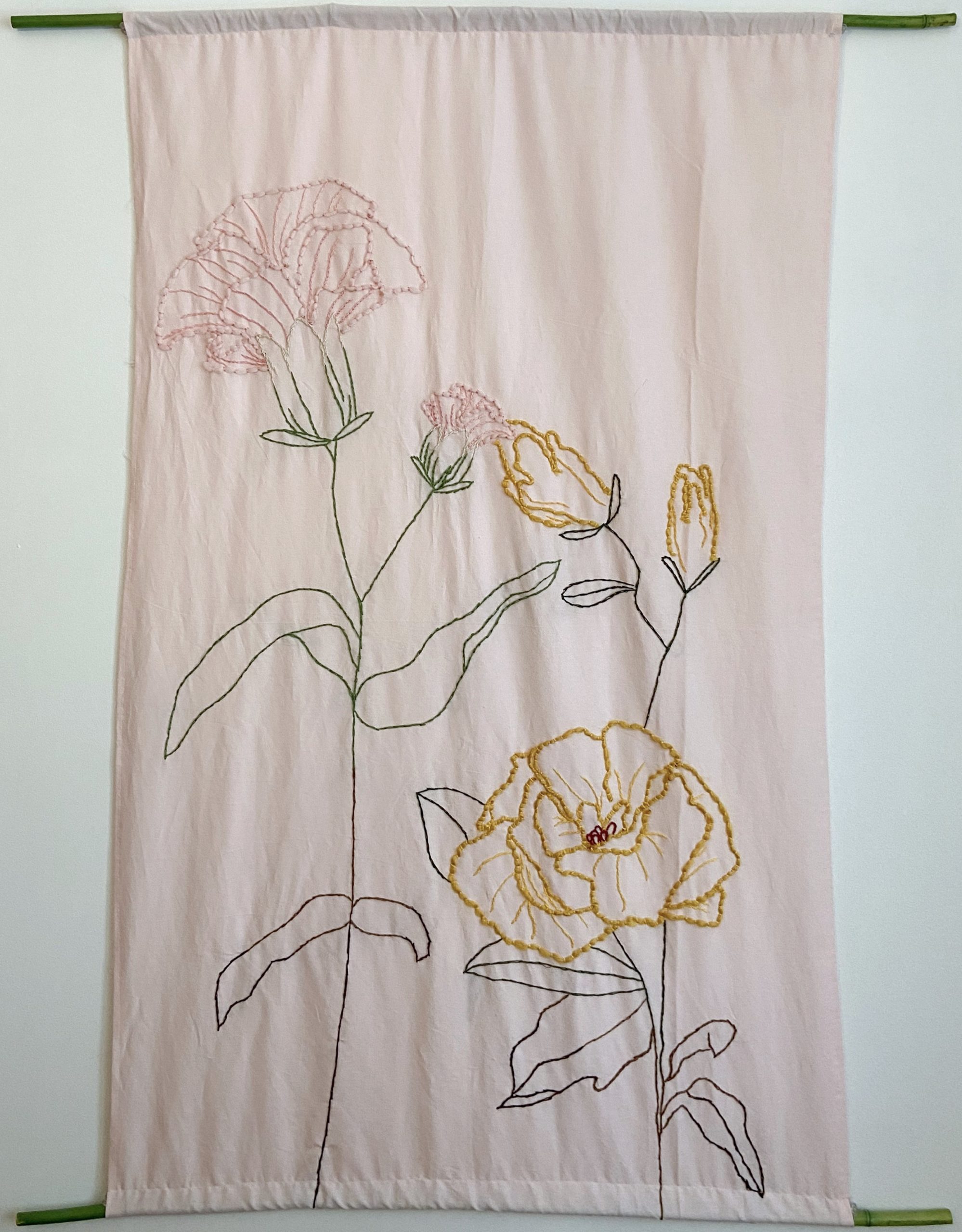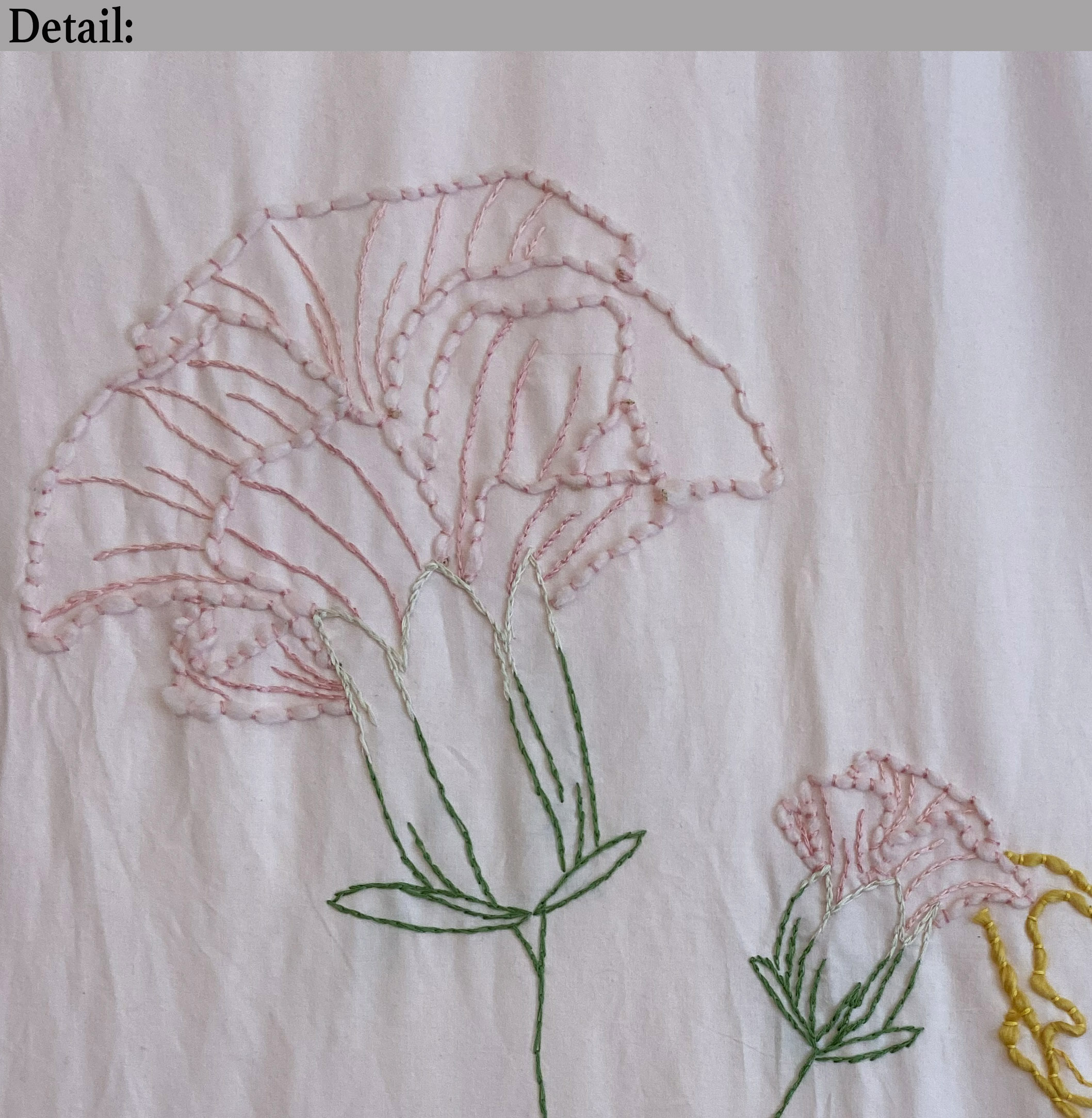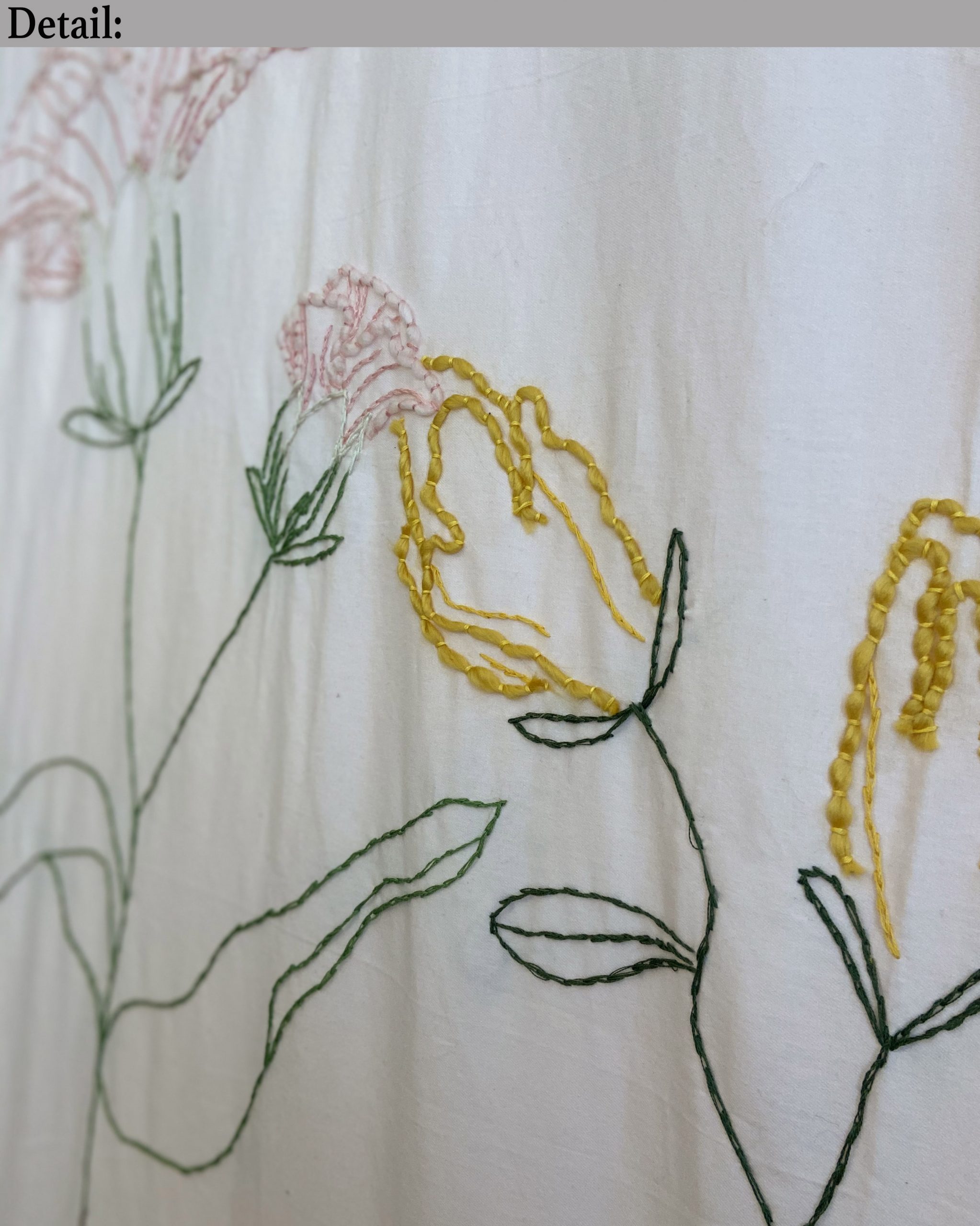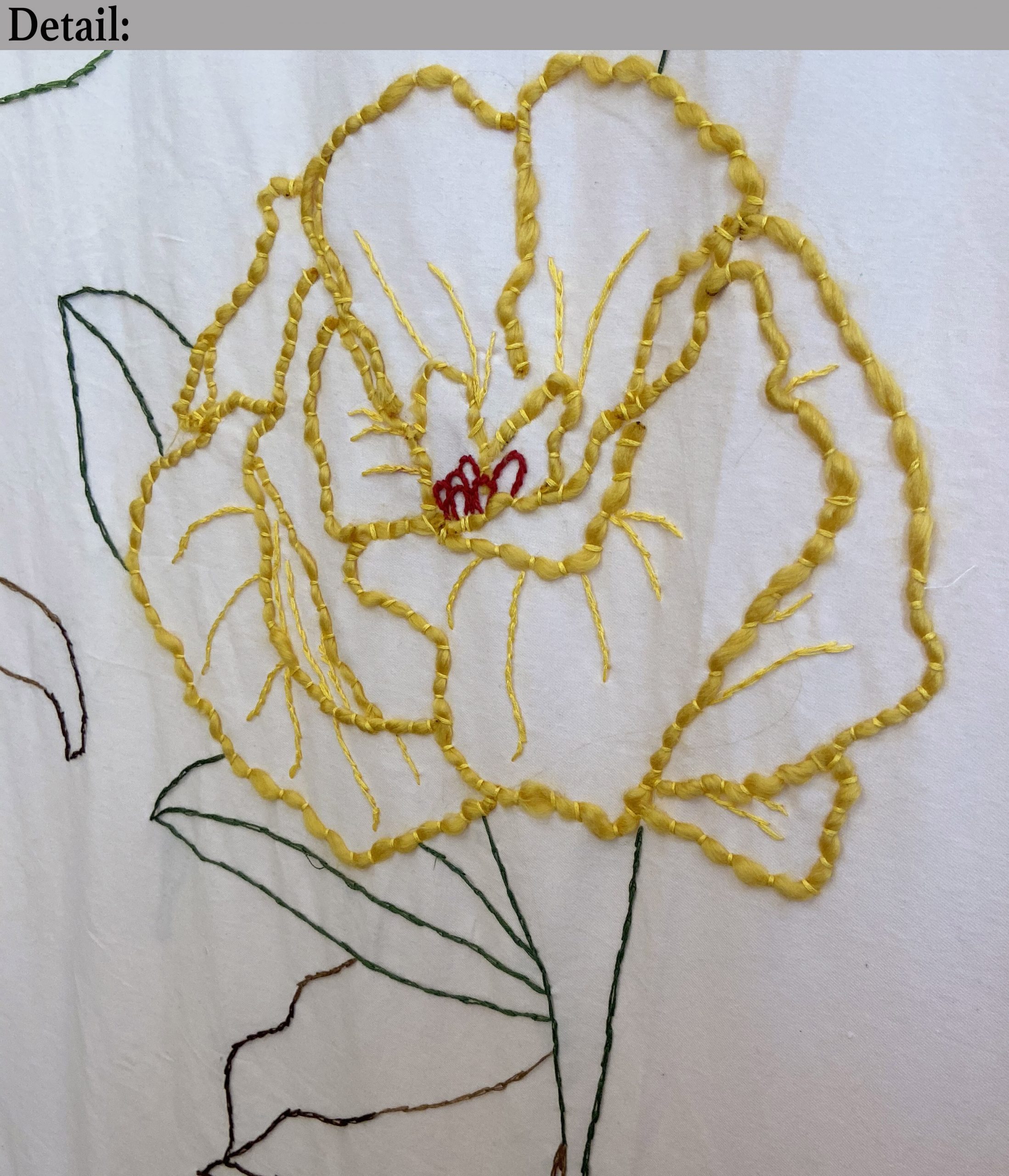 Sarah Pearson
3rd Year, Major in Art Education & Minor in Psychology
Growing Pains
40″ x 55″
Embroidered Textile
2019
Artist Statement:
I believe that creating and sharing art is a very intimate practice, which is the reason why the majority of my artwork draws from my personal narratives and experiences. I aim to make art that is expressive and evocative, exemplifying various emotional states and the self-awareness which exists alongside. This is in hopes that the viewer feels immersed in or connected to my artwork in a personal way. I value colour and the power it has in setting the tone of an artwork as well as directing the viewer. This is something that guides my process; therefore, colour is an integral element of my art practice and the colour palette of this work was an essential component in creating a warm and inviting artwork that greets the viewer. I view the definition of growth to be synonymous with aspects of community. Similarly, the visual of plants and flowers growing has remained in the back of my mind since the beginning of my journey in community art education; a visual metaphor for the significant life experience of learning how to teach and facilitate the learning and making process for others. Being so privileged as to work with such a broad range of populations throughout my professional experiences and within my teaching placements, has taught me about the fragility of older learners as well as young children and youth who are very impressionable at that age. Teaching experiences with these populations have shed light on the amount of vulnerability it can take to create, share, and engage with art. These thoughts surrounding growth and vulnerability are the reasons behind my choice to work with such an intricate fibres technique, embroidery.
Ideas of delicacy and fragility bring a whole other dimension to the narrative of growth. Elaborating on the notion and representation of natural objects, I felt it important to capture organicity as well as elements of degradation. I included elements of degradation in this piece as reference to hindrances I have experienced both as an artist and an educator, and how I have grown and transformed my perspective when looking back at those experiences. These elements in this artwork are equally indicative to any obstacles learners of mine have had to overcome and how they've done so through artmaking and learning processes. Growth, learning, and art making are profoundly intertwined in the field of art education and within my own thinking. After all, growth is not linear, and neither is learning; they are natural processes which take place over time and require much hard work and reflection. For this reason, this visual metaphor is something I plan on expanding on in my future artistic practice as well as bringing similar concepts forward in the lessons I will develop. This is in hopes of opening up the conversation surrounding the importance and authenticity of growth in community.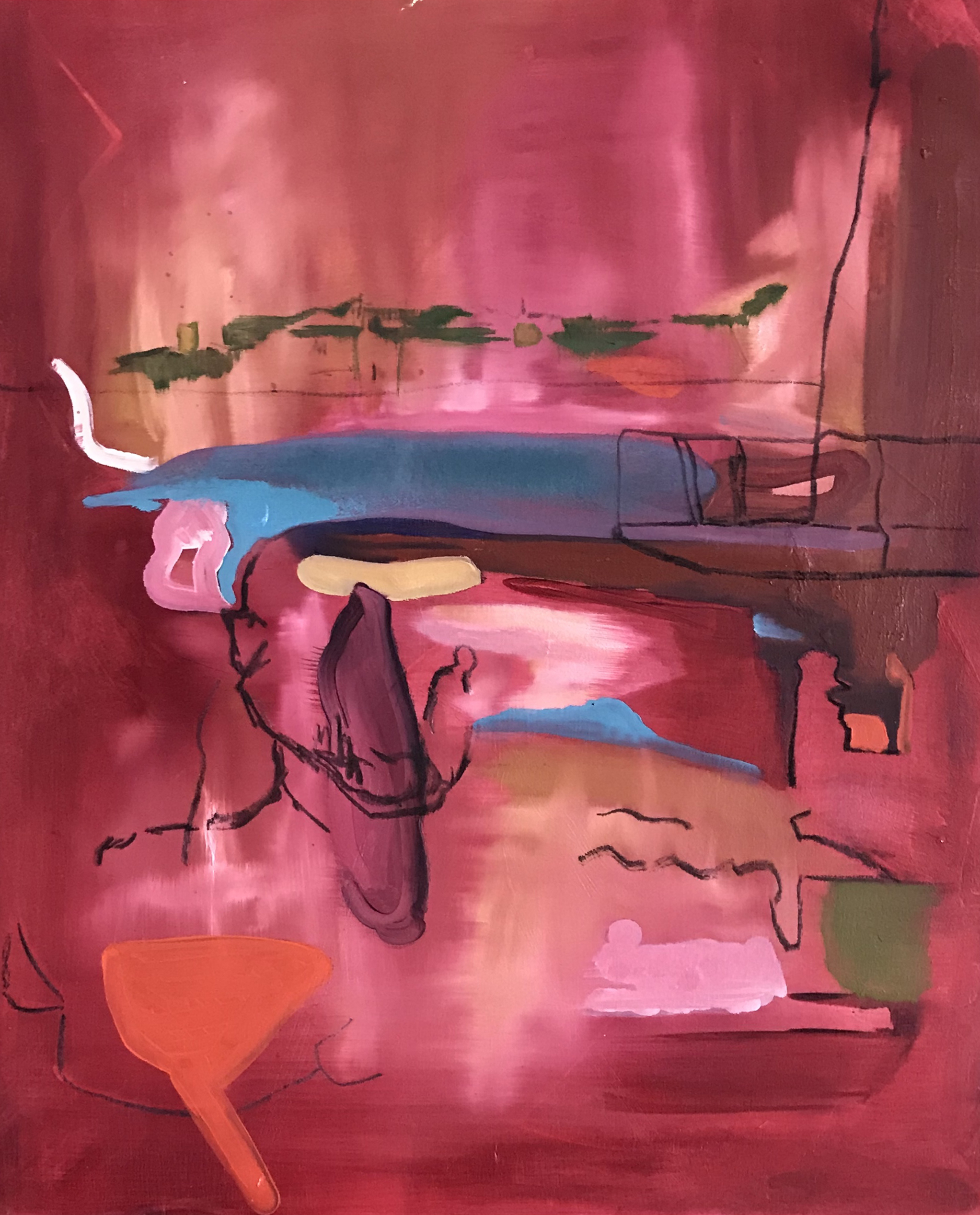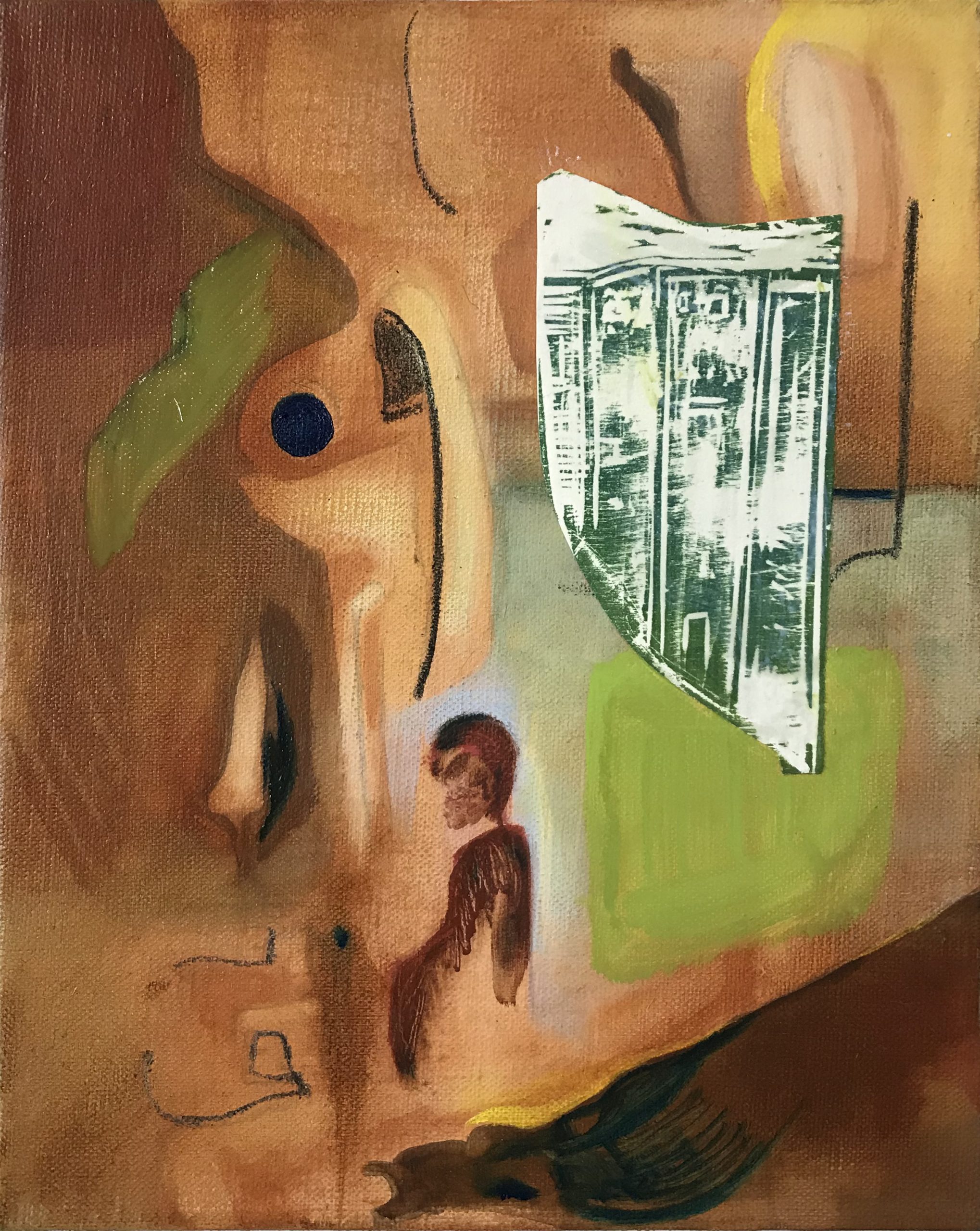 Rosi Maria Di Meglio
4th Year, Double Major – Art Education, Painting and Drawing
Porte D'Ischia I
16″ x 20″
Oil on wood
2017

Porte D'Ischia II
8″ x 10″
Oil on linen
2019
Artist Statement:
This series started as a research project, delving into my identity as an artist born from immigrant parents. I have never really felt I had a clear hold on my identity; digging deep and questioning why has become a clear goal of mine; wishing to uncover the roots of my identity. I began this research project by revisiting my past: my childhood, my adolescence, and my past marriage. I revisited these elements through memories and photographs.
This research deepened when I visited my parents' hometown in Ischia, Italy, for the first time in 2016. I felt that I needed to discover this heritage of mine, my parents' way of life in their hometown, to fully discover and see my own identity. I met my aunts, uncles, and cousins who I never knew I had. I was able to piece together and ultimately better understand my heritage and myself. I was able to recognize my parents' way of life back in their own hometown and understand the differences between Canadian and European cultures.
These two paintings are part of a larger ongoing series exploring space and identity. Both paintings are reflections from my visit to Italy in 2016, depicting my experience at the Porte of Ischia, where locals still purchase fresh fish from the fishermen as they have done for centuries, and where I shared many memorable moments with my Aunt Fiorina.
My work begins through the lens of a camera; I believe it is important that my work derives from original photographs and memories. I then deconstruct and transform the photos I take and memories from that moment into an abstract painting filled with expression and movement. I use intuition to decide on colour, composition, and a layering process; these elements are made to grab the viewer into the canvas and transport the viewer. While articulating the thought process as it pertains to certain colours I used in my paintings is difficult, I can identify that my colour choices respond to memories of the naive girl I once was, with my use of pink and red tones; and in the green painting, with earth tones reflecting my healing process. The translucent appearance develops from layering thin layers of paint. The layers reveal shapes and forms that fascinate me because they are not part of the original composition. These shapes and forms rise to the surface and speak of uncertainty and wonder. The push-and-pull of the canvas between the foreground and the background is intriguing because it leaves me with a sense of space between these two grounds and the multiple layers that exist in between.
I chose to place these two paintings side by side because together they speak of a time of discovery and transformation for myself: an enlightening about my identity. They are inspiring and take me to a place where I feel safe and free. Together these works represent the transformative experiences I lived through, to become the woman I am today.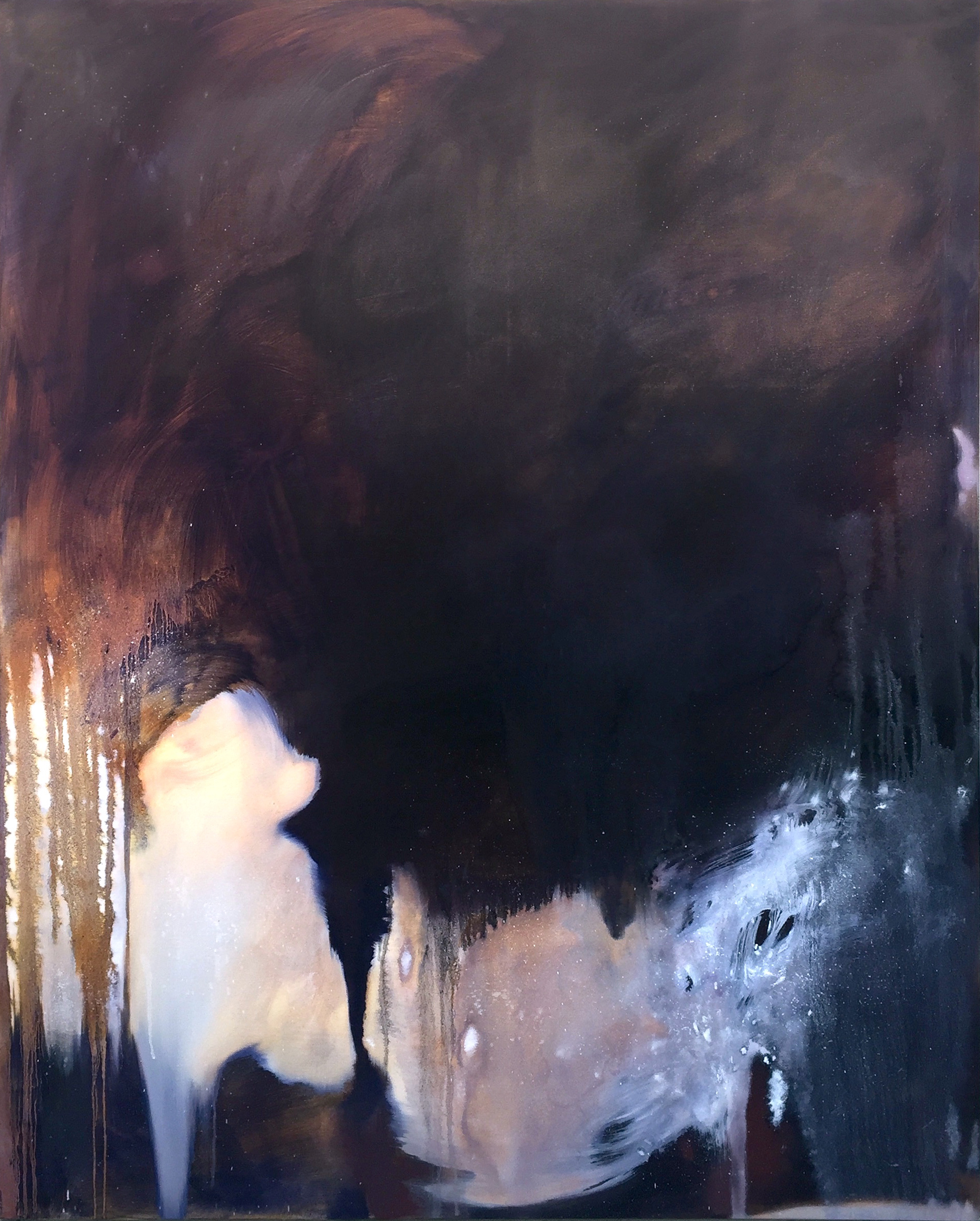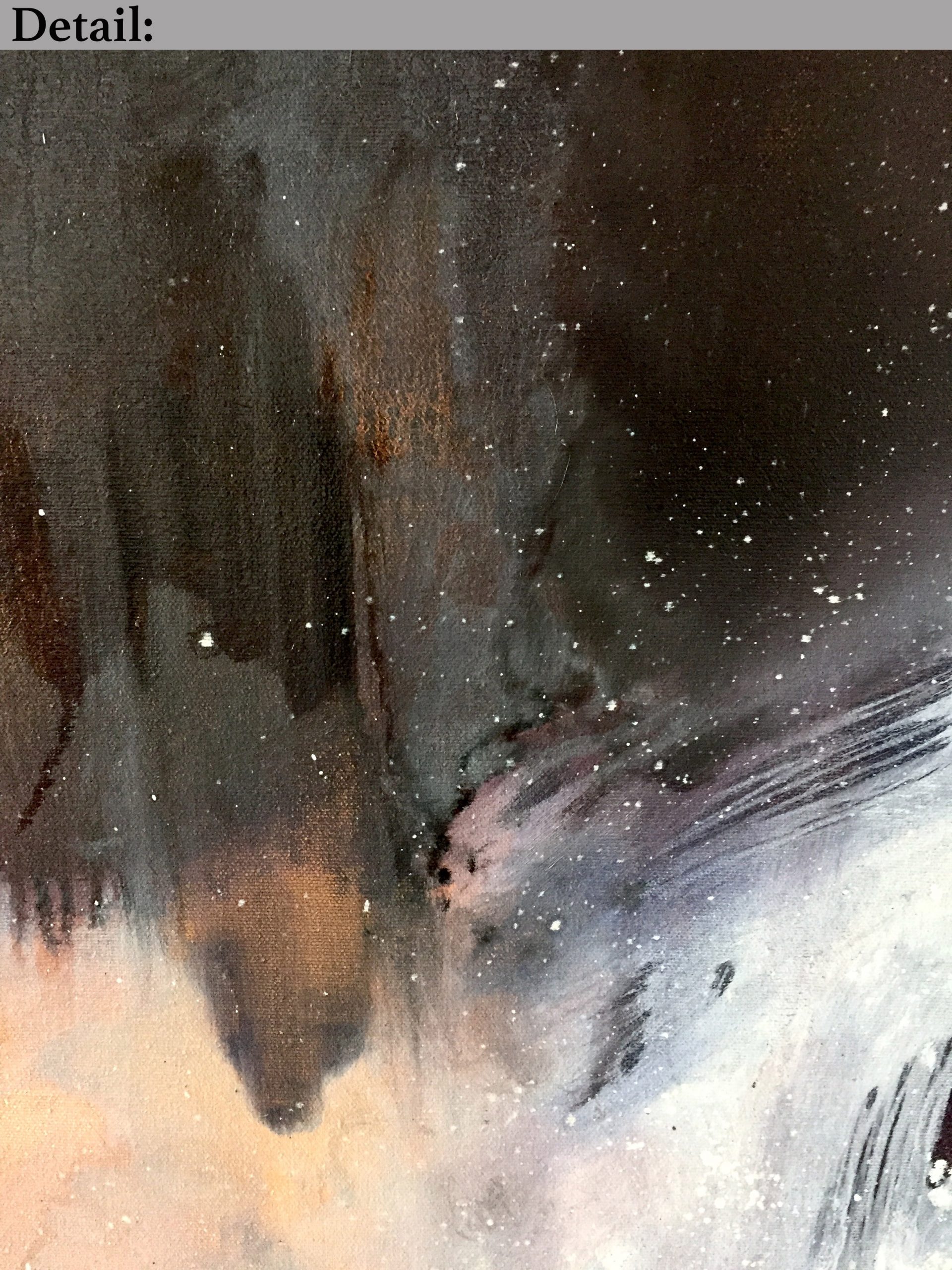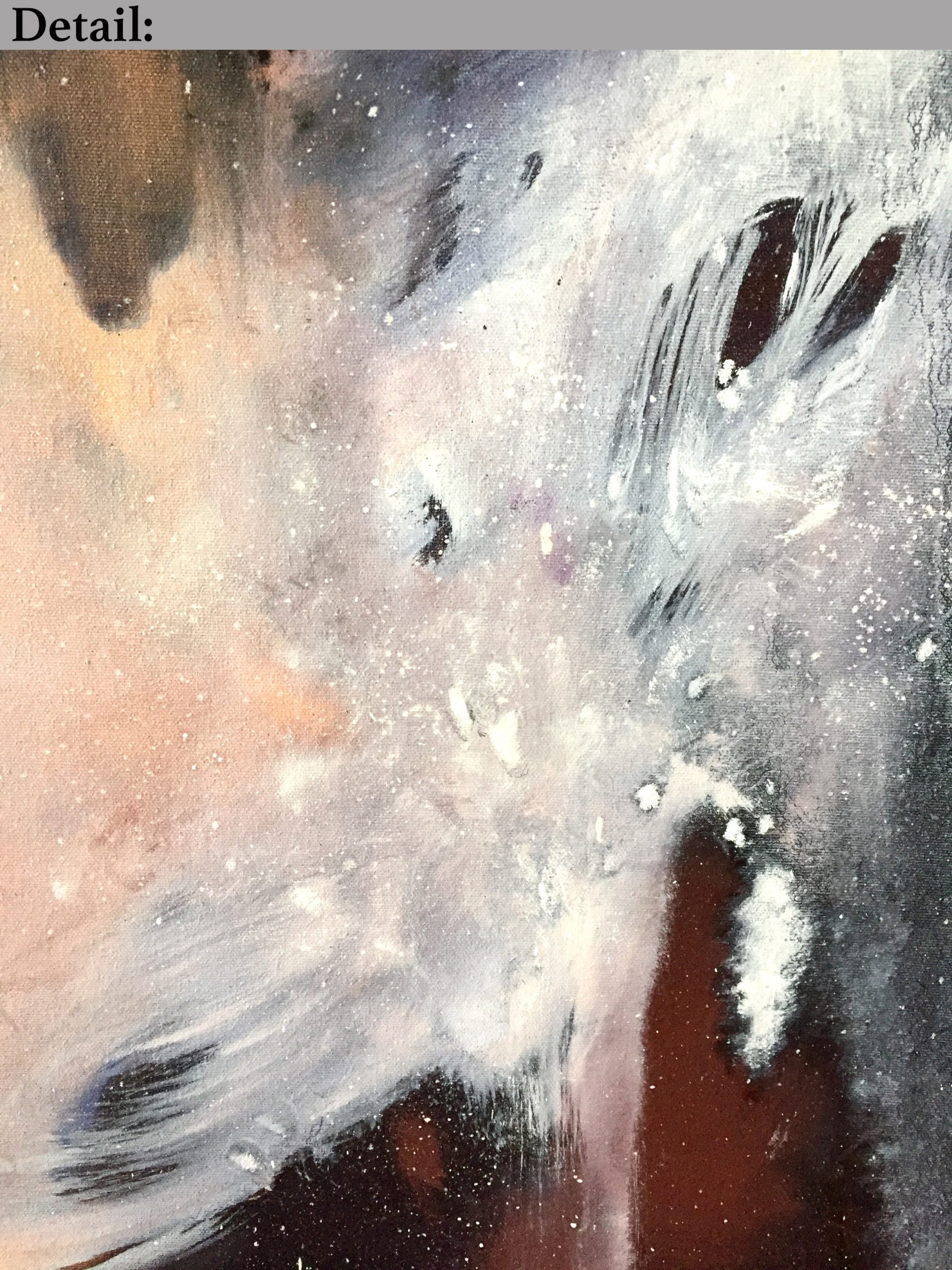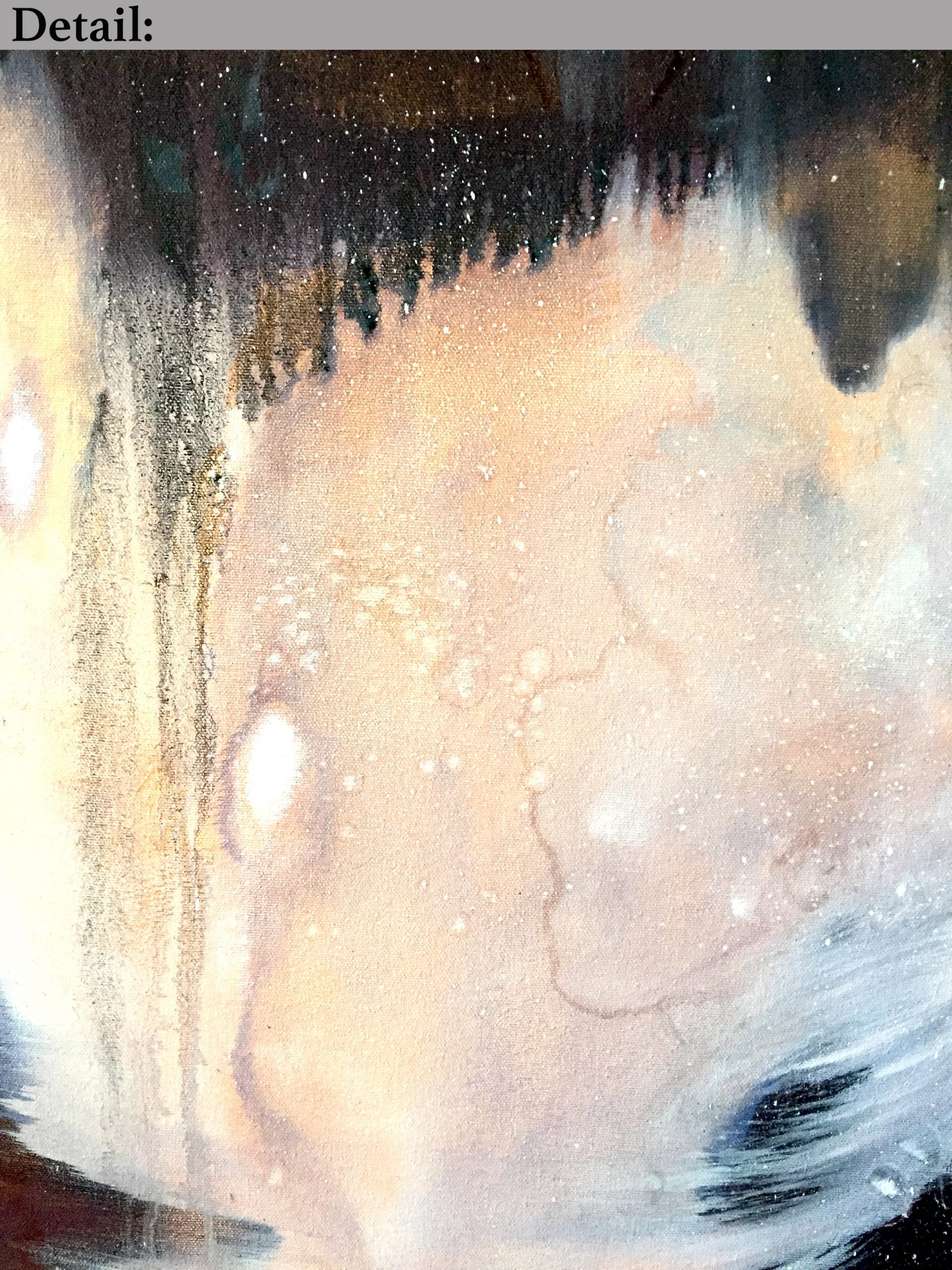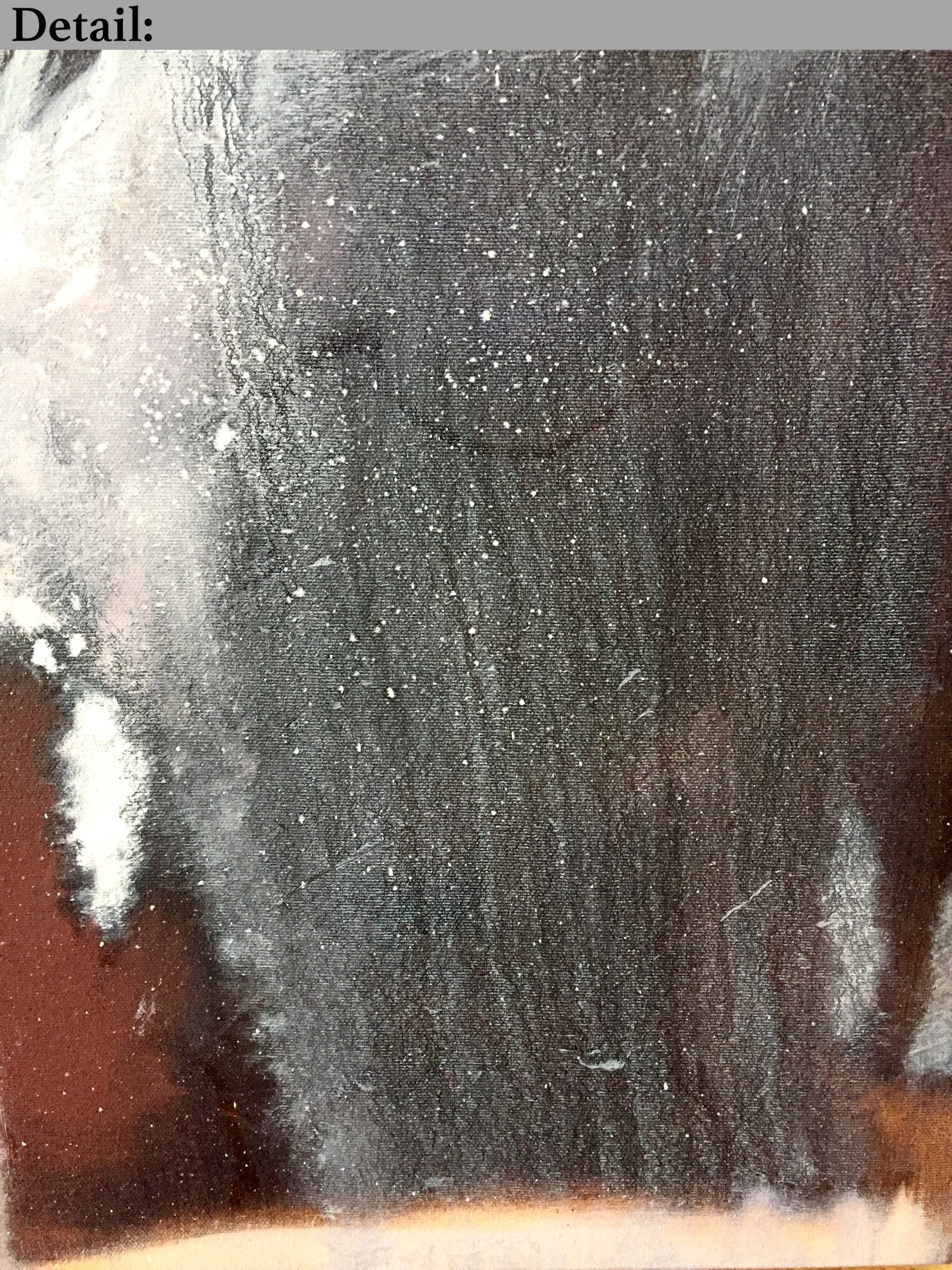 Rachel Mudrosky
4th Year, Major in Studio Arts
Untitled
48″ x 60″
Oil on canvas
2020
Artist Statement:
As a fourth-year student majoring in studio arts, I focus on figuration and abstraction in my body of work. Currently exploring performative and experimental modes of expression, my interest in work which emphasizes the materiality of an image-making process is piqued; treatment of medium and surface holds a strong significance and creates moments of tension as well as elation. I see my artmaking process as a tactile endeavor. I seek to interact with the senses, ultimately creating an image which is both visceral and sincere.

Untitled was made this year, as I am currently taking a course in abstract painting – an area of interest and uncertainty for me. Painting is a fluid and expressive process which I enjoy very much, while still feeling challenged by it to a point of deep discomfort. Regardless of how much I paint, the doubt and hesitation that might come with a first painting still lingers. Untitled represents the beginning of a turning point: The moment where this uncertainty transforms into an experimental exploration, the start of an untroubled mode of expression which focuses on process and play. Often looking at change in my greater body of work, I underline the unfixed nature of bodies and states over time through fragmentation, incompleteness, and selective rendering. This is most explicit in other works of mine which are created through the medium of drawing. Exploring this approach through abstract painting has challenged me to expand my perspectives surrounding treatment of medium and surface as I paint.

The notion of transformation is embodied through the fluid movement of forms in this painting; each one interacting with the other, reshaping with every contact. Through gestural brushwork, I seek to create a space that is both tangible and beyond reach, inviting and grim. Light pierces through darker layers, transfiguring the surface and one's encounter with it. Striving to create images that are detailed and imprecise all at once, this inclination towards the cryptic and personal often results in work which emanates a sense of melancholia. I rely on intuitive expression as a means of creating in a genuine way, and to allow visual imagery of an otherwise inaccessible place to emerge authentically.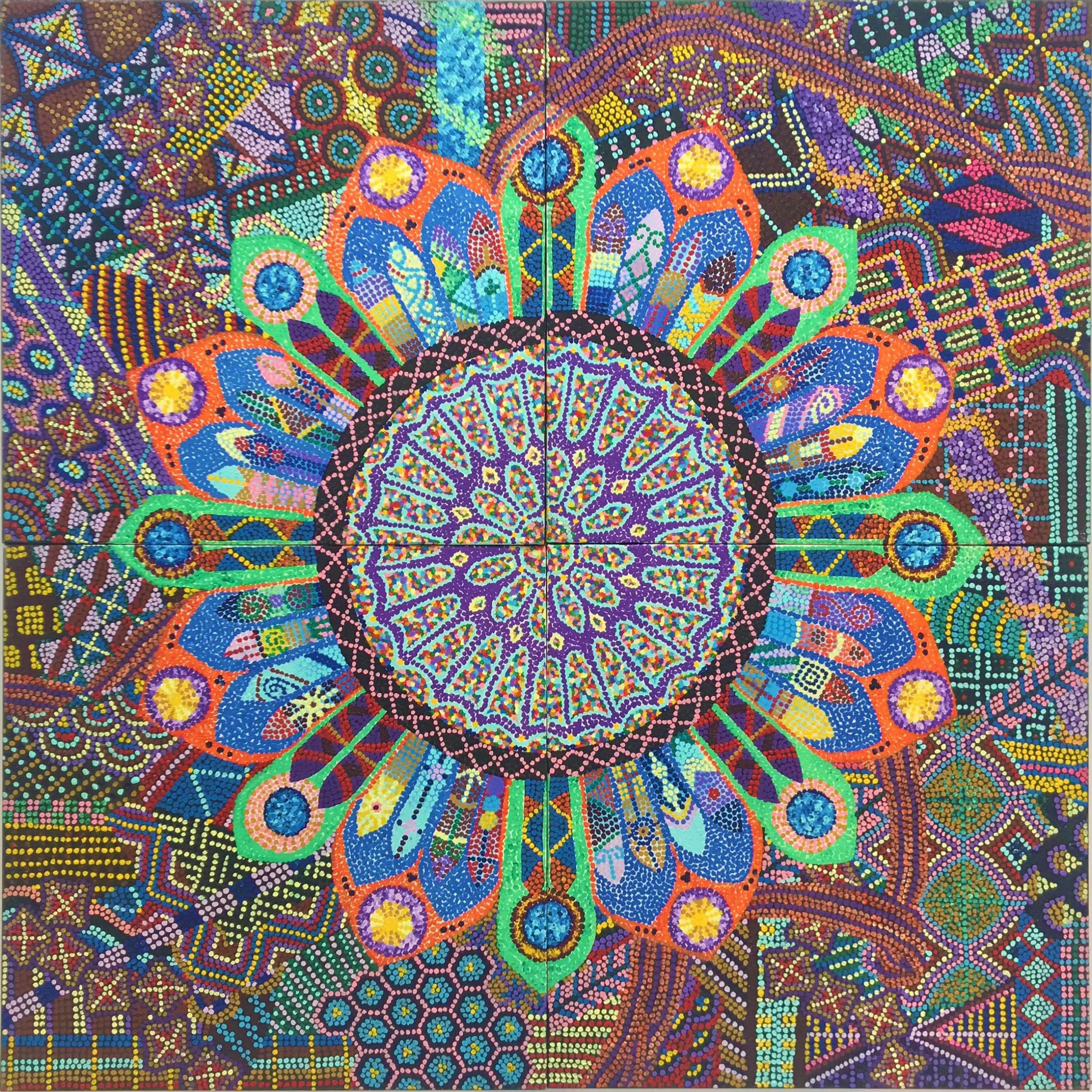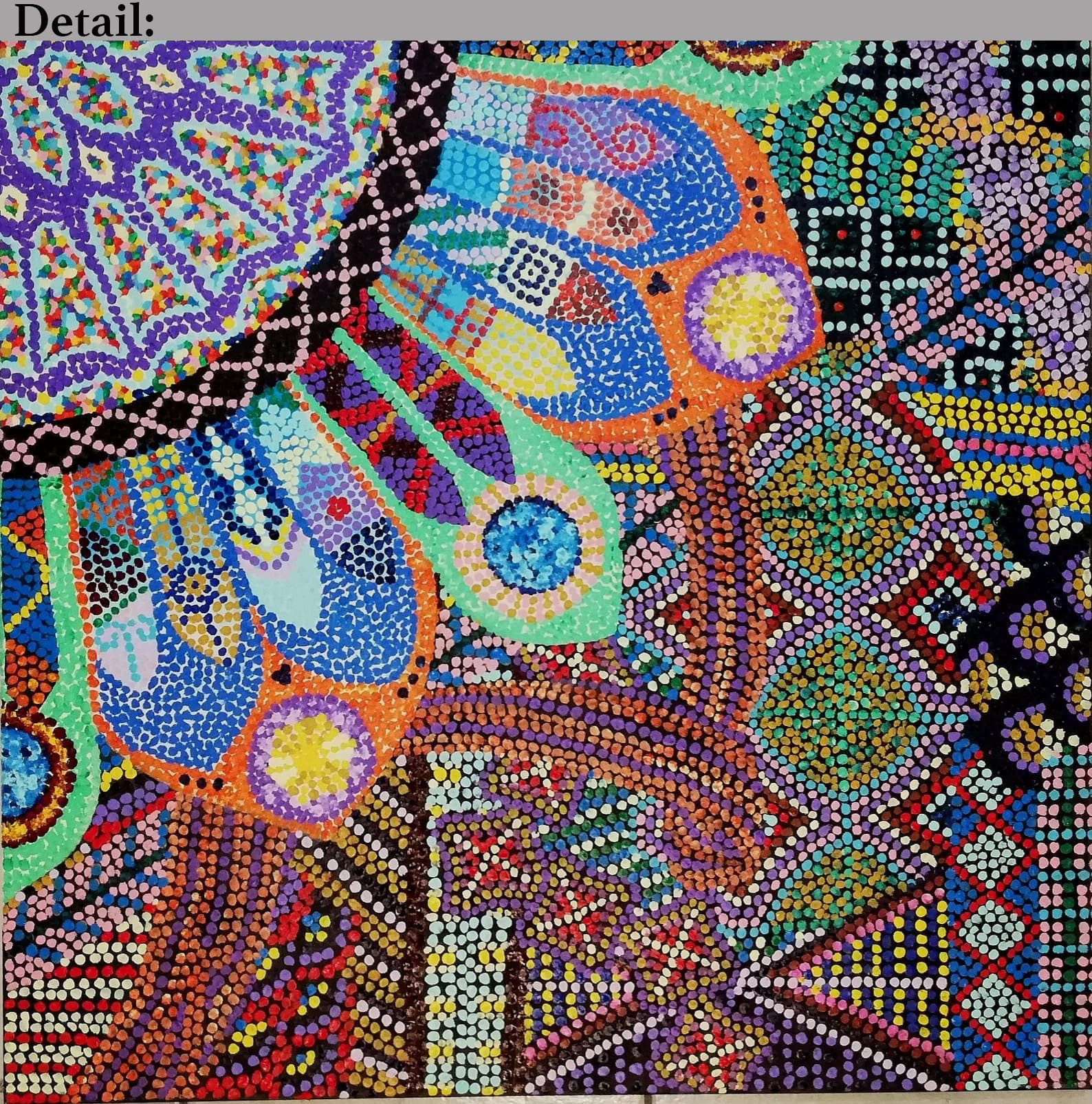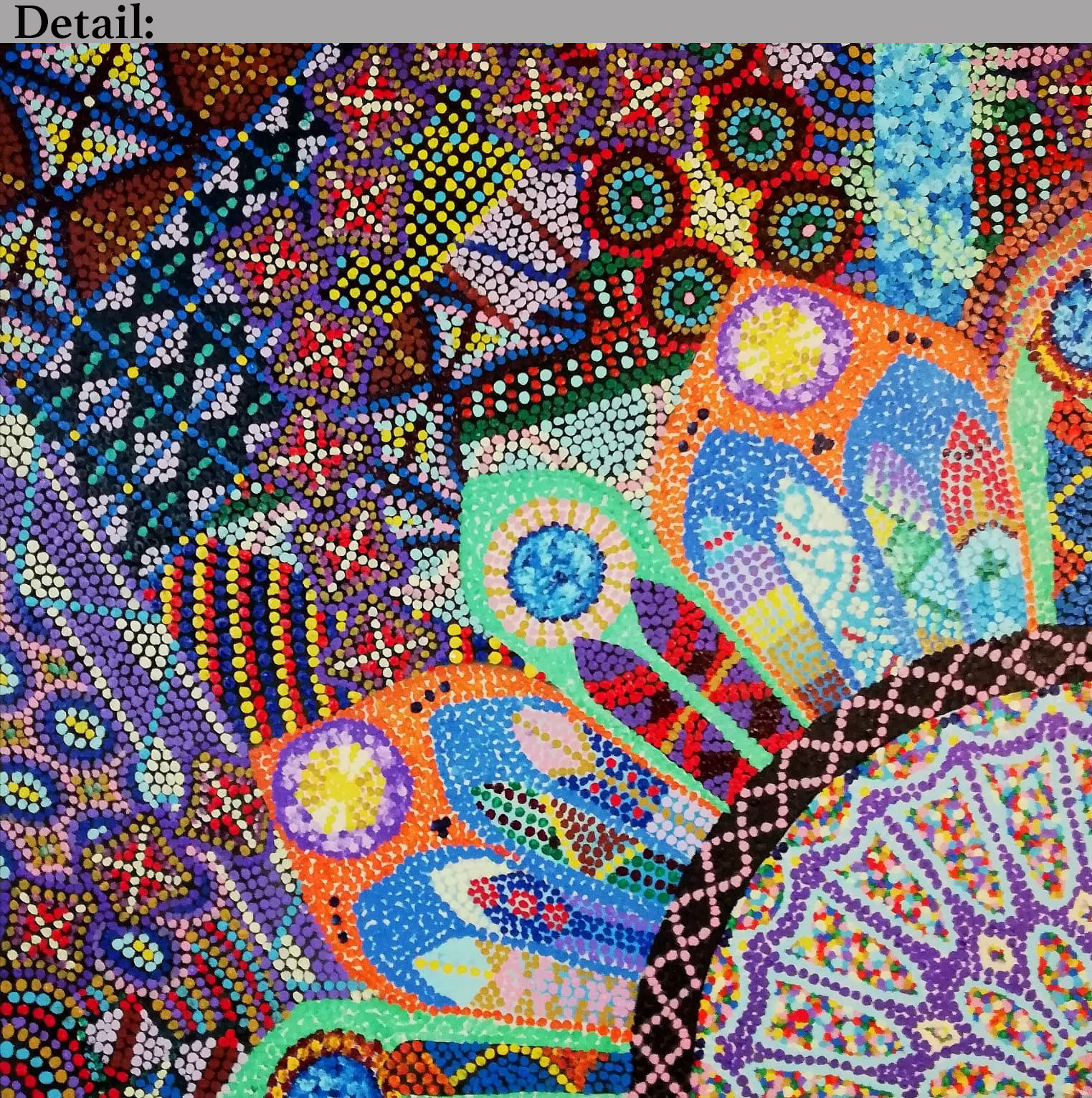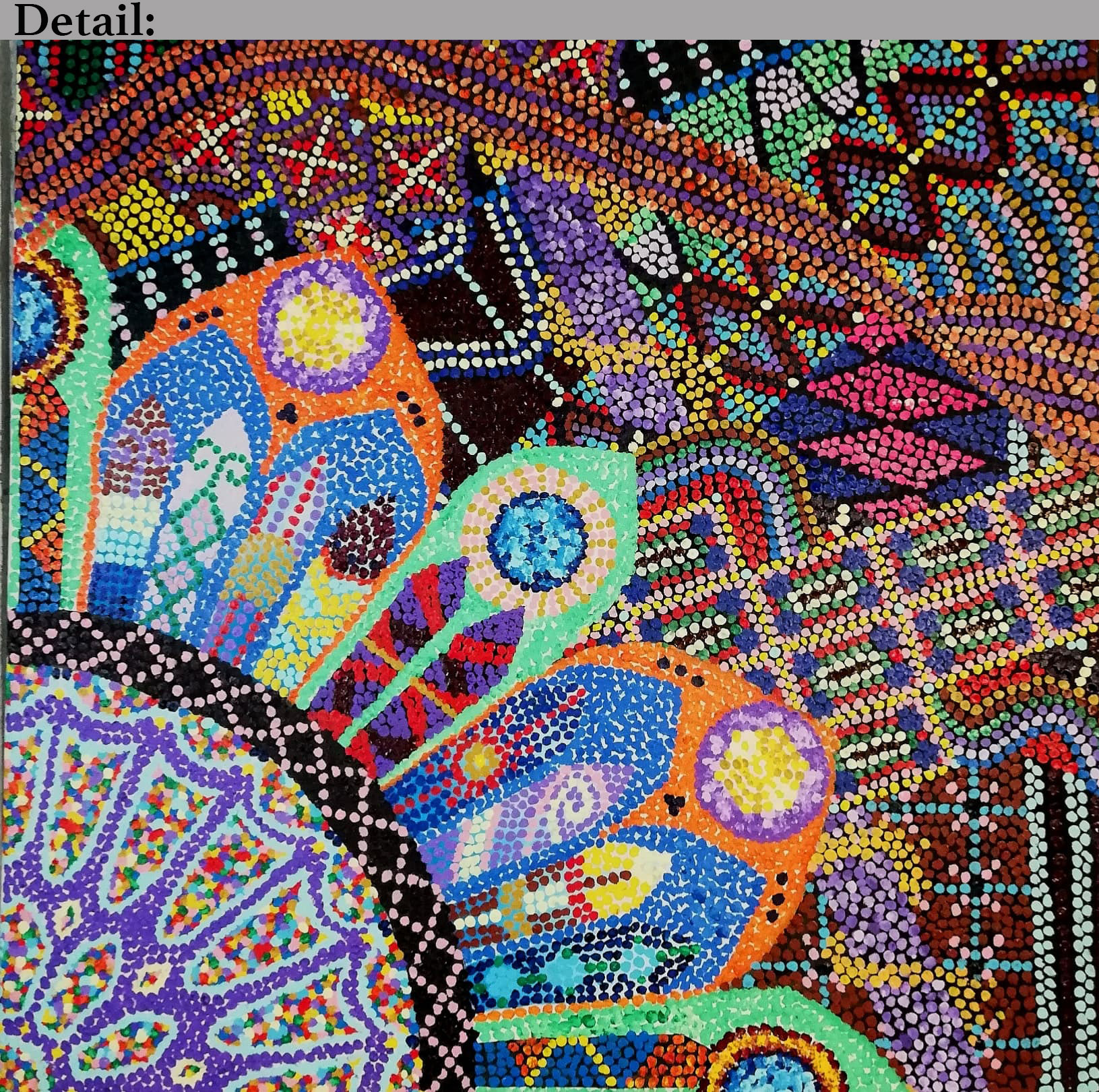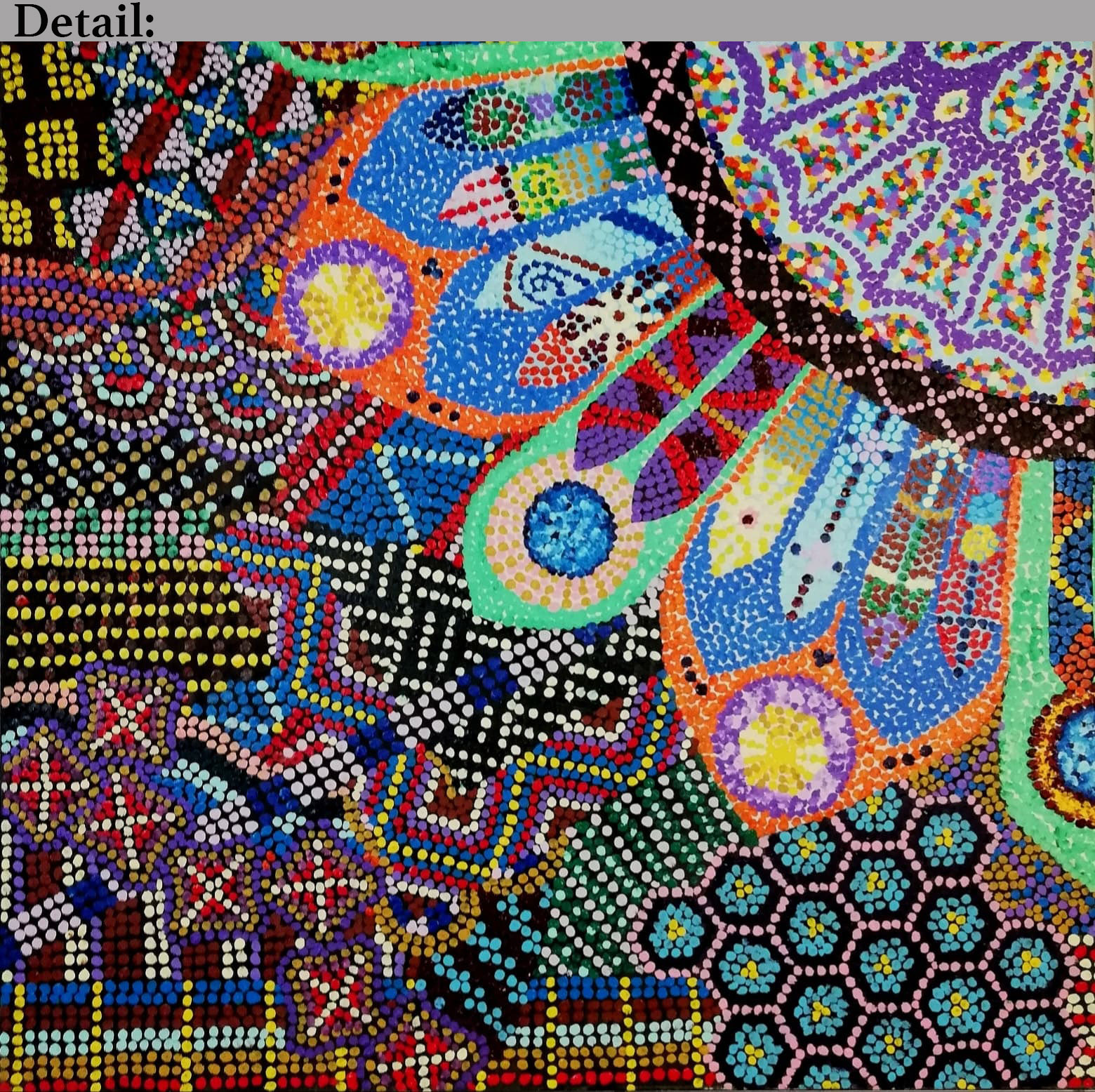 Marika Madimenos
3rd Year, Major in Studio Art and Art History
Explanations #5
Four panels, each 30″ x 30″
Total, 60″ x 60″
Acrylic on canvas
2019
Artist Statement:
This project began with a realization: I found that I was evolving in a different way compared to everyone around me. I think outside the box to solve the simplest situations, such as creating the most detailed project at school that does not even count towards a grade. I have been told that I am too negative when I prepare for any and every bad outcome. However, I see this preparation as a way to ensure that only a good outcome will occur. These comments feel similar to hearing a language that sounds familiar; you think you can speak it, but no one is actually able to hear or understand you. The central idea of Explanations #5 was to create a work which showcases a visual, abstract representation of my thought process. This work consists of four panels, each 30" by 30" and was completed in December 2019 using acrylic paints on canvas. Explanations #5 is only one part of a larger series which displays ideas and themes that everyone encounters daily: our passions, our relationship towards music, religion, sexuality, and more. No one will fully understand the inner workings of another's mind, but this painting is meant to allow the artist and the viewers to recognize the bigger ideas which transform and shape each of us throughout the duration of our lives.

This particular work in the series represents the passion one finds through one's life. This is why I consider it to be the most elaborate piece in the series. Details among these panels were chosen uniquely and represent my perception and views on subjects similar to what I have listed above. This series is more personal because of my choice to use pointillism throughout each panel. The seemingly endless number of little dots which make this work helps create a clearer picture. While I might find things complicated and unbearable in my own head, the thoughts as depicted with paint are never muddy. Through my choice of patterns and designs, I created an overwhelming mechanical feeling within the paintings to express that our minds and our thoughts are transforming and evolving constantly; a clear evolution hence the presence of confidently dotted colours which bear complexity, nonetheless.

There should be no shame in someone taking extra time to understand where another's views derive from. It is very possible that this series and approach to painting will continue in my future work. I have always believed that our minds, just as our ideas and potential, are limitless; in a constant transformative state, and so this series will be as well.