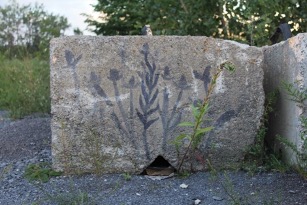 Natacha Girouard
Third Year, Specialization in Art Education
Connecting to Hybrid City Spaces
Series of Cyanotypes
2021
Artist statement:
I am a budding art educator with a background in outdoor education and studio arts. In my teaching/art practice, I incorporate recycled, repurposed and natural materials. I am interested in outdoor spaces as co-facilitators. I aspire to connect with local community organizations and schools to create opportunities for experiential learning, movement, risk-taking, and participant-led projects.
Description:
The submitted work is a reflection on a project done over the summer using cyanotype to connect/interact with to outdoor spaces in the city. The submitted work includes documentation (pictures) of the project and workshop given.
---
Cyanotype Project
Connecting to Hybrid City Spaces
How do you define connection; is it limited to people, or does it encompass self, city, earthly nature, and more?
During the summer break 2020, I set out to connect with my environment and art practice using cyanotype. By exploring the photographic process in situ, I hoped to change my relationship to familiar city spaces. I wondered if I could feel a deeper connection to the city and nature within it. To further experience cyanotype as a relational tool, I aimed to share my process and host an outdoor workshop while navigating the evolving pandemic health regulations.
If you are familiar with cyanotype, perhaps and a satisfying blue comes to mind. The Greek definition of cyan, a deep-blue impression, describes it well (Stulik & Kaplan, 2013). The process is low-tech and low toxicity; it uses two soluble powders (ferric ammonium and potassium ferricyanide) to create a photosensitive solution (Ware, 1998). When exposed to ultraviolet light and developed in water, coated paper turns deep blue. By hiding areas from exposure, compositions and images can appear. English physical scientist John Herschel discovered cyanotype in 1842 on his quest for a colour photographic process (Ware, 1998). Atkins' botanic prints and photographic books Photographs of British Algae: Cyanotype Impressions (1843-53) are early examples of the technique and possibly the first photo-illustrated books (Stulik & Kaplan, 2013). Contemporary artists such as Megan Riepenhoff, Erin Shireff, and Andrea Chung have adopted and adapted the process with exciting results. Megan Riepenhoff creates abstract compositions by exposing large, coated sheets to the water, salt, and sand of American beaches. As photographers, artists and hobbyists embrace the blue, sourcing materials and information is increasingly accessible.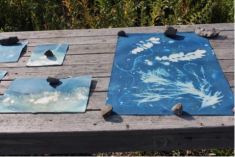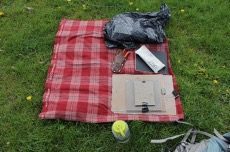 I was drawn to the medium's directness, portability, low-cost, and potential for experimentation. Beyond the powders' initial cost, I spent little on materials using left-over fabrics, paper, and cardboard. I pressed materials between old glass frames with clips to create sharper prints. Importantly, I could carry or bike all my materials using a backpack.
I chose three locations in Montreal/ Tiohtià:ke where nature and city structures interact: the Loyola City Farm, Projets Éphémères, and the Blue Bonnets Hippodrome. I frequently visited these spaces for work, solitude, and a sense of "the wild" within the city. In each location, I experimented with different natural materials, objects, and techniques. At the Loyola City Farm, I made prints from the compost pile and placed coated paper amongst the grasses and plants. At the Projets Éphémères gardens, I played with the effects of water, mud, and found objects. I used my apartment balcony to expose kitchen scraps, tea leaves, and ice cubes. These are just a few examples of how cyanotype drew me closer to these spaces and their materials. The process allowed for a sense of discovery and play. While making prints, I became more aware of each sites' textures, moisture, and shapes. My awareness also turned to the sky, as changes in light greatly affected exposure. In full sun prints take about 15 minutes, while they can take hours with cloud-cover. The sun's angle also affected prints by creating long shadows. The process permitted me to spend hours at a time in these spaces, present and focused. It felt a lot like "connecting". The prints produced stand as collections or snapshots of my interactions with these spaces.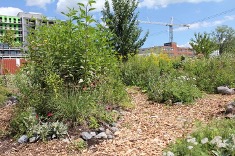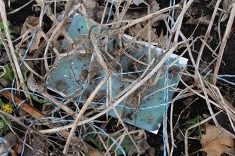 I was eager to share my experience of these hybrid nature/city spaces with others but, hosting a workshop during the pandemic made me anxious. I went ahead following the most up-to-date health regulations and invited four friends to the Projets Éphémères gardens. Projets Éphémères started as a gravel lot granted by the University de Montréal for community gardens and urban agriculture nearly six years ago (UdeM, 2021). It has been criticized as an effort to increase UdeM's new campus' social acceptability, located in the Parc-ex neighborhood (Colpron, 2019). Over the years, community organizations have built-up the soil and it now supports a diversity of insects, birds, fruit trees, herbs, and vegetable gardens. Projets Éphémères is, however, temporary and planned for demolition in the last phase of building the new campus.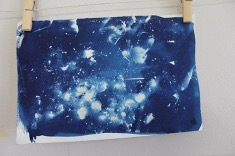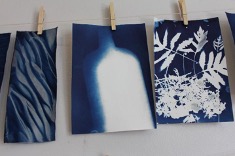 I began the workshop with a quick tour and introduction followed by an exercise to "tune-in" to the site and our senses. Each participant chose a unique spot to sit alone and answer a list of questions in their sketchbooks. The questions, inspired by awareness practices, included: What are the furthest and nearest sounds you hear? What do you smell? What attracts your eyes? Etc. Participants jotted their answers and sketched the space around them. Some drew detailed plants and city structures, while others created sound maps. We regrouped, reflected on our experiences, and read harvesting best-practices by Potawatomi biologist and writer Robin Wall Kimmerer (Kimmerer 2014). We then dispersed to harvest plants and objects for our prints. Following demonstrations, participants made and developed several prints. Once everyone had gained first-hand experience with the process, I suggested making collaborative cyanotypes. I had brought some large, coated papers for this purpose. Participants became more experimental and less product-oriented while collaborating; many said it was the highlight of their day. We ended the workshop by putting objects back where we had found them, scattering plants and seeds, and reflecting on the experience. Four hours had gone by in a flash. Most participants said they felt energized and inspired to try this process in other spaces.
My final experiments with cyanotype were spontaneous graffiti on cement blocks at the Blue Bonnet Hippodrome. I drew plants that echoed the ones piercing through the gravel at the blocks' base. I enjoyed how the drawings appeared slowly with exposure and looked like shadows. Days later, the blue faded and was washed away by rain. For me, appearing and disappearing represents the natural world (the more-than-human) within the city. As explained by Alette Willis (2011), the wild and the urban are interpenetrating; cities are (to varying extents) hybrid places where humans, natural elements and structures interact. According to Willis, nature does not need to be separate from the urban or the human. She asks whether we can heal ourselves by restoring and creating access to natural spaces within cities (Willis, 2011). This perspective resonates with me and my experience of hybrid city spaces. However, ecologically diverse urban spaces are few and cannot be taken for granted as both the Projects Éphémères gardens and the Blue Bonnets Hippodrome (OCPM, 2020) are slated for urban development and construction.
The current pandemic has changed our lives, plans and outlook. Limited in-person interactions have pushed me to recognize connection as a priority. I now know that "feeling connected" is why I enjoy facilitating and teaching. I have also learned that connection is broad and can include connecting to my environment, the more-than-human, myself, spirituality, and history. Perhaps connection is adaptable, situational. By connecting to hybrid natural/city spaces using cyanotype, I felt the calm and timelessness of a nature walk without leaving the city. Is life the same? No, but maybe finding new means of connecting is valuable in its own way.
Documentation and lesson plan available at https://natgirou.wixsite.com/cyanotypeproject
This project and writing took place in Tiohtià:ke/Montreal on Kanyen'kehà: ka territory.
Thank you, Dr. Laurie Blair for guidance on this project. Thank you, Camille S., Isabel, Camille D., and Johanna for participating in my first cyanotype workshop.
References
Colpron, S. (2019, June 30). Embourgeoisement : Parc-ex sous tension. La Presse. https://www.lapresse.ca/actualites/grand-montreal/2019-06-30/embourgeoisement-parc-extension-sous-tension#
Kimmerer, R. W. (2014). Returning the gift. Minding Nature, 7 (2), 18-24. https://www.humansandnature.org/filebin/pdf/minding_nature/May2014_Returning_the_Gift.pdf
Office de Consultation Publique de Montréal (OCPM). (2020). Rapport de consultation publique quartier Namur-Hippodrome. https://ocpm.qc.ca/sites/ocpm.qc.ca/files/pdf/P107/rapport-namur-hippodrome.pdf
Stulik, D. C. Kaplan, A. (2013). The atlas of analytical signatures of photographic processes: Cyanotype. The Getty Conservation Institute. https://www.getty.edu/conservation/publications_resources/pdf_publications/pdf/atlas_cyanotype.pdf
Université de Montréal (UdeM). (2021). Accueillir les communautés avoisinantes. Université de Montréal. https://www.umontreal.ca/universite-citoyenne/projets-ephemeres/
Ware, M. (1998). Herschel's cyanotype: Invention or discovery? History of Photography, 22 (4), 371-379. https://doi.org/10.1080/03087298.1998.10443901
Willis, A. (2011). Re-storying wilderness and adventure therapies: healing places and selves in an era of environmental crises. Journal of Adventure Education & Outdoor Learning, 11 (2), 91-108. https://doi.org/10.1080/14729679.2011.633375